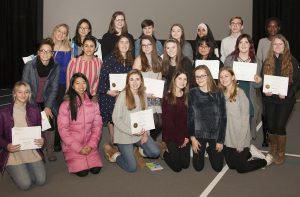 Talent abounds within the walls of the Fayetteville-Manlius School District as is evidenced by the stack of awards students recently earned at the 2018 Central New York Regional Scholastic Art & Writing Awards competition. This is the nation's longest-running and most prestigious recognition program for creative teens in grades 7 through 12.
This year, 90 schools from around Central New York submitted more than 5,560 works of visual art and writing to the Scholastic Awards, and more than 1,880 works were recognized at the regional level and celebrated in local exhibitions and ceremonies.
Among those entries, F-M students raked in 213 awards, including two Gold Portfolio Awards, a Silver Portfolio Award, four Honorable Mention Portfolio Awards, 49 Gold Key Awards, 67 Silver Key Awards, and 90 Honorable Mention Awards.
"We are so proud of the outstanding work these students have created," said Ellen Haffar, an F-M High School art teacher. "Art is a powerful and creative way to express oneself and our students have, once again, gone above and beyond showcasing their talents."
Anna O'Neil and Adrianna Angotti were awarded Gold Portfolio Awards; Bailey Plew earned a Silver Portfolio Award; and McKenna Murphy, Isaiah Haywood, Paige Nelligan, Maryam Rahaman, and Matthew Richer earned Honorable Mention Portfolio Awards.
Two F-M students also won special awards. Sydney Ashby received the Directors Award for Best Drawing and Lisa Zhou earned the American Visions Award.
Gold Portfolio, Gold Key, and American Vision Awards recipients will advance to the national competition.
To view the students' work, please visit the Scholastic Art Awards exhibition at Onondaga Community College's Whitney Applied Technology Center through March 2. The exhibition is open to the public from 9 a.m. to 7 p.m. Monday through Friday, and 9 a.m. to 6 p.m. Saturdays and Sundays. Additionally, a select group of work from the Silver Key Award winners will be displayed at the Everson Museum from March 10 to April 8.
Gold Key Award Recipients
Sydney Ashby, Marion Avilia, Grace Bloom, Hannah Brown, Ian Brown, Julia Bulger, Ava Bybee, Liberty Clarke, Katie Cole, Sidney DeMonte, Grace Dugan, Sondos Elhabbal, Nida Fazili, Isaiah Haywood, Lydia Henn, Angela Iskander, Lauren James, Michael Jia, Sarah Johns, Olivia Kettell, Lindsay Kilpatrick, Nora Langan, Elim Liang, Rachel Liu, Gabe Longo, Peilin Lu, Sommer Lugert, Abbey Maring, Madeline Means, Caroline Muller, McKenna Murphy, Hope Myhill, Katya Noble, Anna O'Neil, Cadence Panol, Paige Pepling, Kevin Peters,  Grace Pierson, Carson Plew, Daniel Ryu, Laura Scalzetti, Michelle Shanguhyia, Sophie Stinziano, Brook Tester,  Tina Wang, Amber Williamson, Maren Winter, and Lisa Zhou.
Silver Key Award Recipients
Sydney Ashby, Elise Beckman, Julia Bulger, Ava Bybee, Rachael Cahill, Keyana Cheek, Katherine Continelli, Ethan Doherty, Maximilian Du, Grace Dugan, Sondos Elhabbal, Heide Fragoso, Adam Foster, Lucille Fowler, Isaiah Haywood, Victoria Horton, Saya Hrosar, Tina Huang, Madi Ingram, Michael Jia, Kiersten King, Maylen Kummer, Stephanie Knych, Nora Langan, Rachel Liu, Nia Lloyd, Nancy Loh, Aleksandra Marcinkowski, Lauren McAndrew, Oksana McCrohan, McKenna Murphy, Paige Nelligan, Katya Noble, Francis Palladino, Nicholas Pellegrino,  Stella O'Connor, Rory Pfohl, Bailey Plew, Robert Probst, Maryam Rahaman, Matthew Richer, Justin Rossi, Spencer Sasenbury, Camilla Scalzetti, Kate Scuderi, Rebecca Shyne, Samantha Sibert, Alexis Smith, Harper Stoppacher, Emma Synder, Clara Tyrel, Rishma Vora, Yihan Wang, Tristan Wellner, Maren Winter, Judah Wolfe, Sophie Woodridge, Miranda Zheng, Nina Zheng, and Lisa Zhou.
Honorable Mentions
Maya Ali, Zara Ali, Elise Beckman, Maria Bentz, Grace Bloom, Ian Brown, Julia Bulger, Emma Carlson, Ilianna Cohen, Rose Cole, Katherine Continelli, Jed Danaher, Ethan Doherty, Isabel Doherty,Jennifer Doug, Maximilian Du, Maddy Duggleby, Sondos Elhabbal, Ethan Ferguson, Adam Foster, Lucille Fowler, Heide Fragoso, Audrey Freightenburgh, Mel Gan, Anna Giacona, Natalyn Gracia, Mabel Hance, Isaiah Haywood, Mackenzie Helmer, Ella Hobler, Olivia Hoke, Victoria Horton, Haley Ingram, Angela Iskander, Lauren James, Ruby John, Hannah Kaczorowski, Lindsey Kilpatrick, Stephanie Knych, Morgan LaFex, Elim Liang, Nancy Loh, Adryanna Lunn, Anna Manta, Skye Margiotta, Oksana McCrohan, Meghan McPhee, McKenna Murphy, Hope Myhill, Paige Nelligan, Anna O'Neill, Zeynep Ozcelik, Elena Paolini, Cadence Panol, Julia Pelletier, Grace Perry, Grace Pierson, Paris Puccia, Maryam Rahaman, Paige Ranieri, Sadie Raynor, Elizabeth Reed, Alexa Retz, Matthew Richer, Alexandra Richmond, Camilla Scalzetti, Terese Schmidt, Flavia Scott, Samantha Secules, Samantha Sibert, Alexis Smith, Hannah Snow, Emma Snyder, Jenna Snyder, Sophia Teneyck, Sam Theoharis, Sarah Vaccaro, Gracie Van Bramer, Ethan Vislosky, Tina Wang,  Amber Williamson, Mikayla Wishart, Sophia Wojcik, and Sophie Woodridge.