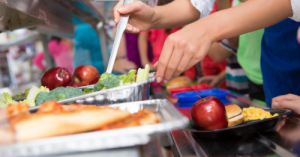 Although a COVID-era universal free lunch program recently expired, free or reduced-price school meals are still available for those who qualify.
Children from households that meet federal income guidelines are eligible for free or reduced-price meals. Reduced-price meals cost each eligible student $0 for breakfast and $0 for lunch. 
During the 2021-22 school year, additional funding from the federal government allowed schools nationwide to offer all students, regardless of their family's income, free meals while at school. This program was discontinued in June 2022 and Fayetteville-Manlius School District has  transitioned back to charging students for school meals.
To apply for free or reduced-price meals, families must submit an Eligibility Letter for Free School Meals from the New York State Office of Temporary and Disability Assistance or complete an application, sign it, and return it to F-M as soon as possible. Applications can be obtained at each school, on the district website, or by calling the F-M Food Service Department at 315-692-1809. The district cannot approve an incomplete application.