Proud of your Fayetteville-Manlius High School graduate and want to let everyone know?
The FM Education Foundation is selling double-sided yard signs recognizing the class of 2019.
Personalized signs are $20, and signs without personalization are $15. Each double-sided sign is 18″ tall and 24" wide, made of vinyl/corrugated plastic board and includes a yard stand.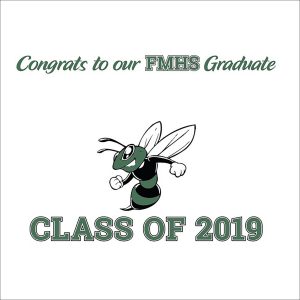 Orders must be placed online by Friday, May 10, and signs are to be picked up 2-6 p.m. Friday, June 7, in the F-M High School House 1 foyer (outside the auditorium).
Students only may pick up signs from 2-3 p.m.
Parents may pick up signs from 3-6 p.m.
Graduation will take place June 21 at the SRC Arena on the Onondaga Community College campus.
According to the FM Education Foundation's website, its mission is to enhance the academic experience of students by partnering with the community and educators to create innovative opportunities that are beyond the district's curriculum and resources.
For more information about the graduation recognition signs, contact the foundation at info@fmeducationfoundation.org.