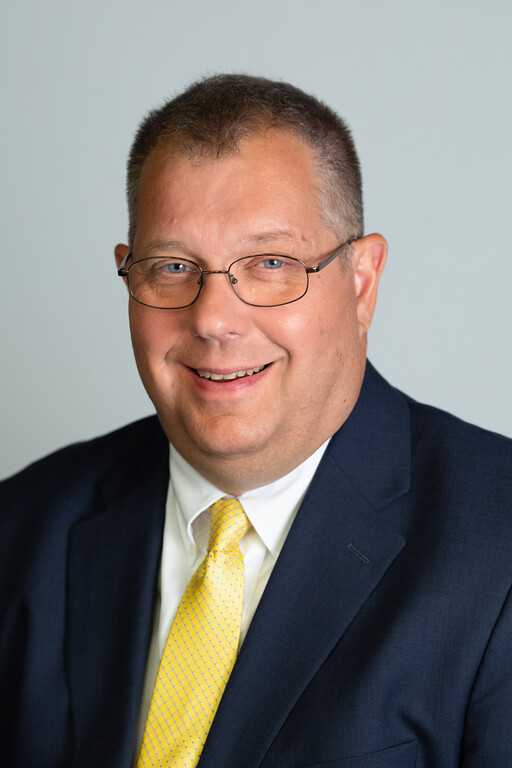 Craig J. Tice joined the Fayetteville-Manlius School District as superintendent of schools on July 1, 2015.
Dr. Tice had previously served as the Marcellus Central School District Superintendent of Schools since 2006. He also served two years as the Marcellus assistant superintendent for curriculum and instruction.
Dr. Tice is a former high school science teacher for the Webster Central School District. He also worked 13 years for the Skaneateles Central School District, first as an elementary curriculum coordinator for mathematics, science, health and technology and then as the State Street School principal. Dr. Tice was a member of the administrative team at Skaneateles when the school district received the Governor's Award of Excellence by the Empire State Advantage Program and two buildings earned National Blue Ribbon Schools of Excellence recognition.
Dr. Tice's educational qualifications
Bachelor of Arts degree in biology and chemistry with a minor in secondary education, Wittenberg University, Springfield, Ohio
Master of Public Administration, Syracuse University's Maxwell School of Citizenship and Public Affairs
Master of Science degree in science education, Syracuse University
Doctorate of Philosophy in science education (with a minor in Educational Administration & Supervision) from Syracuse University
Permanent certification as a School District Administrator and as an instructor of biology, chemistry and general science
During his Syracuse University doctoral residency, Dr. Tice supervised science student-teachers in their public school field placements and worked as a staff development specialist for the Graduate School while on a teaching fellowship. After being awarded his doctoral degree, Dr. Tice taught graduate-level courses in elementary science methods, secondary science methods and teacher development as an adjunct professor.
Dr. Tice's leadership in school improvement extends to both national and statewide organizations.
In New York state, he served as president of the School Alliance for Continuous Improvement from 2008-2015, in addition to serving as a member of the New York State Council of School Superintendents House of Delegates and the Commissioner's Advisory Council. In 2012, the New York State Education Department vetted Dr. Tice to serve as an Outside Educational Expert with the Binghamton City School District as part of the Diagnostic Tool for School and District Effectiveness Initiative – a school improvement model co-developed at Harvard, Brown, Columbia and Yale universities.
At the national level, Dr. Tice served for more than a decade as a commissioner with the Middle States Association (MSA).
In 2009, Dr. Tice was nominated to his first term on the MSA Commission on Secondary Schools where he served on the PK-12 Membership and Accreditation Committee. Following his re-appointment to a second term, his peers voted him as the chair-elect of the MSA Commission on Secondary Schools, where he began participating on the executive, finance and policy/planning committees.
In July 2015, Dr. Tice transitioned from chair-elect to his role as Chair of the Commission on Secondary Schools (CSS). One of his responsibilities as Chair of CSS included traveling to Washington, DC in order to make a formal presentation to the federal government's National Advisory Committee on Institutional Quality and Integrity (NACIQI).
In November 2015, he was elected as a member of the MSA Board of Trustees where he joined representatives from the other two MSA commissions (Higher Education and Elementary Schools).
Effective July 2017, Dr. Tice transitioned from chair to past-chair where he began to assist with the orientation of new commissioners in addition to serving on the Executive Committee and the Membership and Accreditation Committee.
In November 2017, Dr. Tice was tapped to become treasurer of the Middle States Association Board of Trustees where he facilitated the MSA Finance Committee, comprised of trustees from the Commissions for Elementary Schools, Secondary Schools, and Higher Education.
In July 2019, Dr. Tice was asked by his colleagues at the Middle States Association (MSA) to extend his service as Past Chair on the Commission on Secondary Schools for one additional year in order to ensure the continuity of leadership on the governance team as MSA transitioned to a new President. This additional year of service included a return visit to NACIQI in Washington, DC as well as his continued membership (including his responsibilities as treasurer) on the MSA Board of Trustees.
In 2014, Dr. Tice was recruited to join a select group of superintendents from across the country to participate on a national collaborative leadership board convened by the American Association of School Administrators (AASA). The coalition conceived by this leadership board, which is currently branded as AASA's Future Focused Collaborative, brings together innovative and future-focused schools to serve as national models of excellence.  Dr. Tice has also been a long-standing member of the AASA's Personalized Learning Cohort, which organizes visits to school systems throughout the nation that advocate for increased student agency (voice and choice) in the educational process.  Because of their noteworthy accomplishments to promote innovative practices and to advocate for greater student voice and choice, educators from the Fayetteville-Manlius Central School District were invited to present at the prestigious National Model Schools Conference in Washington, DC in June 2019 while the faculty and staff of the Mott Road Elementary School were honored with a National Blue Ribbon School of Excellence Award in September 2020.
Under Dr. Tice's leadership, the Fayetteville-Manlius Central School District joined the Tri-State Consortium in 2018 in an effort to network and collaborate with other high-performing school districts in New York, New Jersey, and Connecticut.  The Tri-State Consortium offers its member schools the opportunity to participate in study groups with fellow educators to share best practices and on district consultancies (school visitations designed to provide helpful feedback in a particular area).
Dr. Tice's family includes his wife, Dr. Stacey Lane Tice, and their three children: Megan, Matthew and Molly.
Dr. Tice can be reached at 315-692-1200 or ctice@fmschools.org.