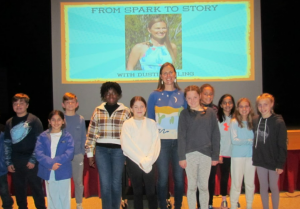 In November, Eagle Hill Middle School and Wellwood Middle School each hosted a visit from award-winning and bestselling author Dusti Bowling.
Fayetteville-Manlius School District students, in grades 5 through 8, attended a presentation given by Bowling in which she spoke about her childhood and her path to becoming a published author. She noted the importance of taking time to be creative and putting down devices to engage our senses in our surroundings.
Following the presentation at Wellwood, students were invited to attend a series of interactive sessions with Bowling. This included a book signing and an informative Q & A that answered student's questions about her writing process and favorite books.
Wellwood students also had the opportunity to take part in a writing workshop led by Bowling. This hands-on learning experience taught students how to create their own characters and provided students with tips for writing dialogue.
Bowling's home state of Arizona is often reflected in her novels for middle school students such as "Insignificant Events in the Life of a Cactus," "The Canyon's Edge," and "Across the Desert." Her success as an author, in part, can be attributed to her novel's resounding themes of differences, adversity and resilience.