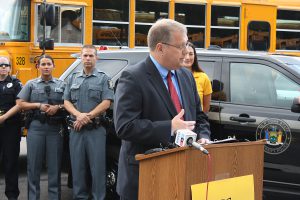 School is in session across Onondaga County this week, and representatives from local law enforcement, the transportation industry and the Fayetteville-Manlius School District attended an awareness event Sept. 3 at the F-M bus garage to urge community members to be alert while driving so that students get to and from school safely. 
F-M students in kindergarten through grade 9 started school Tuesday, Sept. 3. Grades 10-12 start Wednesday, Sept. 4.   
Tuesday's event was part of an annual awareness campaign advocating for drivers to pay attention, practice good driving habits and follow the law.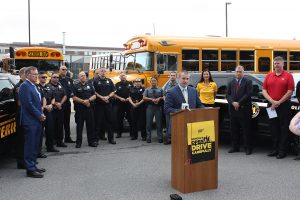 Alex Walsh, chairman of the Onondaga County Transportation Safety Advisory Board, spoke about the importance of safe driving, including reducing speed when in school zones, not using a cell phone while driving, ensuring children are properly restrained in vehicles, stopping when a school bus has stopped and activated its red flashing lights—meaning a student is either entering or exiting the vehicle—and not passing a stopped school bus while its lights are flashing.
Onondaga County Sheriff Gene Conway said that school districts and law enforcement officials now have another tool to help catch those who disregard the law and pass a school bus while its red lights are flashing: cameras on the outside of buses that will capture an image of the driver's license plate. 
The state's new School Bus Camera Safety Act allows municipalities to partner with school districts to install on the outside of school buses cameras that will automatically take a video of a vehicle and its license plate when a vehicle passes a stopped school with its stop signs out. The footage will be forwarded to local authorities, which then will issue citations and eliminate the need for law enforcement officers to witness the incident at the time it occurs. 
While there are monetary fines for passing a school bus with its lights flashing, the goal is to deter drivers from illegal activity and keep students safe, Conway said.
"This is more about changing behaviors," Conway said. "We're going to do everything we can to assist schools and assist bus drivers to ensure kids get to and from school safely." 
The F-M school district has eight school buses that are currently outfitted with the cameras, Superintendent Craig J. Tice said. The district will continue adding the cameras to the bus fleet until all of its 63 buses are equipped with the new technology. 
"Keeping kids safe is the priority," Tice said.