B-I-N-G-O!
On Dec. 14, Brookdale enhanced assisted living community residents who won BINGO received lap quilts made by Eagle Hill Middle School eighth-grade students, who also visited with the residents and played several rounds of BINGO while there.
Thirty-seven students total in two Family and Consumer Science (FACS) classes taught by Robin Brenner made the quilts in September as their first class activity. The students spent six double periods (80 minutes total) working on the quilts in small groups for a total of about 480 minutes—or about 8 hours per quilt, Mrs. Brenner said.
The students made 12 quilts total from materials donated by families in the F-M community, and they donated all of the quilts as BINGO prizes at Brookdale. Mrs. Brenner plans to replicate the activity with her classes in the second-half of the year.
"Quilts are great review for students using the sewing machine, and the free fabric from the community makes them affordable," Mrs. Brenner said. "Plus, they make great gifts to give away when making community connections!"
On Nov. 20 and Dec. 14, students in the two (FACS) classes took a school bus during the regular school day to Brookdale in the village of Manlius. The students stayed for about 45 minutes, enough time to participate in several BINGO games. Brookdale gave the students who won blue water bottles.
"Students need to be given opportunities to experience authentic learning," Mrs. Brenner said. "Donating items to others is easy. Experiencing others with one-on-one and group opportunities creates an environment of understanding.
To break the ice between the students and residents, they asked each other questions, such as what is/was your favorite class in school, what's your favorite holiday and what's your favorite holiday food.
Students and residents alike helped each other find the numbers on their BINGO cards. And when eighth-grader Alex Wu won, he gave up his win to instead give a resident celebrating a birthday a quilt. When Tomlynn Carrigan, another Eagle Hill student, won, she also opted to give a quilt to the resident she had been sitting near.
The district recently adopted a new mission statement, and this activity supports that mission by developing supportive community partnerships, Mrs. Brenner said.
"I want my students to understand how someone else sees the world and be able to communicate and show empathy and understanding to that individual. This is an important skill and one that students will use their entire life," Mrs. Brenner said.
As the students left, they called out farewells to the residents: "Merry Christmas," "See you next time," and "It was nice meeting you."
Alex said he thought it was a good idea to donate the quilts to the seniors and visit with them.
"It makes them happy," he said. "It's good to spread happiness."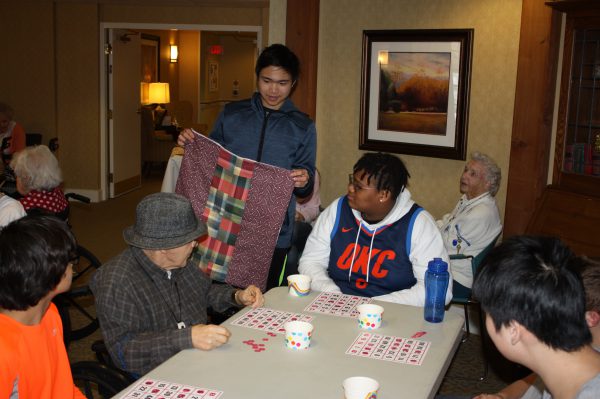 Eagle Hill students donated lap quilts they made to Brookdale in Manlius.
Check out more photos from the event on the F-M Facebook page.