Join Fayetteville-Manlius High School students at the community-wide Dance Marathon kick-off event during halftime of the boys varsity basketball game on Friday, Jan. 20.
The matchup between F-M and Liverpool is set to begin at 7 p.m. in the House I gymnasium at F-M High School, located at 8201 East Seneca Turnpike, Manlius. All students, families and community members are invited to attend.
During the halftime event, F-M students will speak about the impact the F-M fundraiser has on Camp Good Days and Special Times, a not-for-profit organization that provides a summer camp experience to children whose lives have been affected by a cancer diagnosis or sickle cell anemia.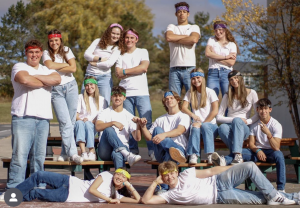 Dance Marathon MCs (masters of ceremonies) will also perform a dance routine, which is choreographed by F-M students.
This annual Dance Marathon fundraiser, which this year will be held on March 18, typically raises more than $100,000 for Camp Good Days and Special Times. Each participant is required to fundraise at least $70.
F-M has been participating in Dance Marathon and challenging students' endurance with this six-hour event for more than 30 years. 
Community members can support F-M Dance Marathon by making a donation at the Jan. 20 event, online, or by mail:
F-M Student Council
8201 East Seneca Turnpike
Manlius, NY 13104 
*Checks should be made out to F-M Schools.