Index
---
Board discussion focuses on capital project proposal
Fayetteville-Manlius School District officials continue to plan a capital project that would impact each and every one of its students.
F-M officials are targeting a date in early December 2021 for its next capital project vote, which will include a proposal to provide infrastructure and programmatic space upgrades to F-M High School, the one school building that all F-M students attend before graduating.
Conversations about the project proposal continued during the Sept. 13 F-M Board of Education meeting.
"We recognize that it's a large project, but the high school is our biggest building and one that all of our students attend," board member Daniel Seidberg said. "The project touches almost every part of this building – and to the benefit of the educational program that our staff can deliver."
The $52 million project proposal aligns with the district's 2020-23 Strategic Plan, which includes a focus on capital improvement projects that improve learning spaces, building security and accessibility and ensuring that district facilities are responsive to contemporary teaching and learning needs.
"There's not a single piece of fluff in this project," F-M High School Principal Raymond Kilmer said during the meeting. "Every part of this project will have a direct impact on students."
District officials expect that the state would reimburse the district for about 80% of the proposed construction costs directly related to instruction. The district plans to ask voters in December to also approve the district's use of capital reserve funds to reduce the total amount the district would finance. If the district uses $7.2 million in capital reserves, the estimated tax rate increase is projected to be 1.89%, and the estimated impact on $100,000 of taxable value would be $47.80, which is lower than what district officials first estimated.
The increase would be phased in over a four-year period, beginning with the 2024-25 school year. It equates to an average per-year increase of $11.95 per $100,000 of taxable value.
"The district will have quite a bit of debt fall off during the 2023-24 and 2024-25 school years," F-M Assistant Superintendent for Business Services William Furlong said. "This will partially offset the project's tax impact."
Kilmer said that in addition to programmatic upgrades and improvements, the project would unify a school community that's currently spread between two separate buildings, centralize offices and renovate portions of the building to better meet students' needs.
"Even if we just talk about eating, right now our cafeteria can only accommodate 200 students," Kilmer said. "If every single student wants a lunch period, we would have to offer seven lunch periods beginning at 8:30 a.m."
At the conclusion of the discussion, F-M Superintendent Craig J. Tice said project posters highlighting the proposal details will soon be on display in district buildings even though the board of education plans to take official action at their regularly-scheduled meeting on Oct. 4, 2021.
What's proposed
Consolidated main office suite and new nurse's office adjacent to the single-point of entry near the auditorium
New elevator and staircase by House 2 main entrance
Addition to House 2 that would create a science, technology, engineering and math (STEM) wing
Two-story cafeteria addition and renovation with hallways to connect House 1 and 2 to improve the pedestrian traffic flow and building security
New learning support center adjacent to the expanded cafeteria
New broadcast journalism space adjacent to the auditorium
New auxiliary gym adjacent to the wellness center
New photography instructional space adjacent to the art classrooms
Auditorium acoustical upgrades
Stadium turf replacement
Major mechanical system upgrades
Fire alarm and public address system upgrades
New fire lane around the back of the building
Sidewalk and asphalt replacement
Asbestos abatement
HVAC replacement to improve ventilation and air filtration including the addition of air conditioning in House 2
Classroom renovations and enhancements
Related news
Capital project updates given at Parent Council: Oct. 1, 2021
District anticipates December 2021 vote on proposed capital project: June 23, 2021 
As one project nears its end, district defines its next priority facility needs: May 25, 2021
Board members assess future facility needs: Dec. 4, 2020
---
2017 Facilities Project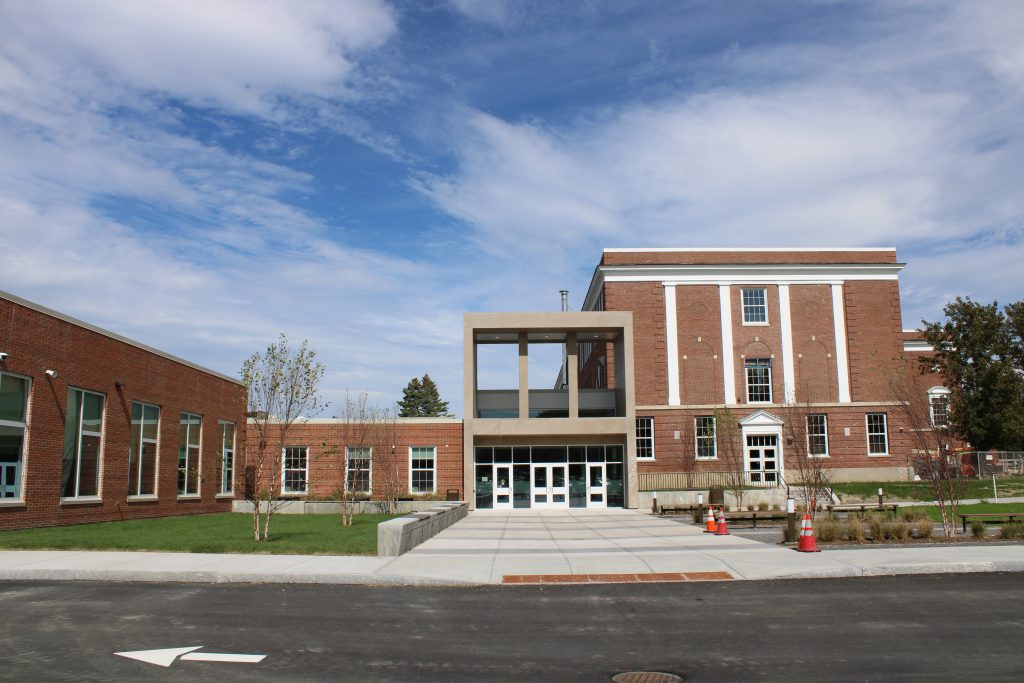 On Dec. 5, 2017, Fayetteville-Manlius School District residents approved a $45.2 million facilities project proposal that will fix aging infrastructure, add instructional space, enhance security, improve accessibility for people with disabilities and create energy efficiencies.
"We are so grateful that our residents have authorized the district to move forward with these projects," Superintendent Craig J. Tice said. "This work will protect taxpayers' investment in our facilities and ensure that our students and staff are learning and working in safe and healthy environments designed for 21st century instruction." 
Construction is expected to begin spring 2019 and is anticipated to be complete by September 2023.
State building aid will pay for 75.3% of the work, about $9.4 million will be used from a capital reserve fund. The remainder will be paid for over 15 years with money from the district's capital reserve fund and the property tax levy. The tax levy is estimated to increase 1.1% with a corresponding tax rate increase of $0.28, which equates to $28.44 per $100,000 of taxable value.
What's involved in the 2017 capital project?
Enders Road Elementary School – $3.0 million
Construct an approximate 4,000-square-foot addition facing the playground, adding three large classrooms, two small classrooms and restrooms to be used during recess
Renovate existing locker rooms (currently used for storage) into restrooms, storage space and offices for the gymnasium
Install partitions for instructional flexibility in four small existing classrooms
Create a new single restroom
Replace obstructed sanitary line located under floor slab
Consolidate heating system from multiple boilers into two new boilers
Fayetteville-Manlius High School – $4.1 million
Upgrade 10 restrooms dating back to the 1960s to better align with the Americans with Disabilities Act (ADA)
Renovate and expand library to meet student demand
Renovate central kitchen area into support spaces
Wellwood Middle School – $34.9 million
Construct an approximate 15,000-square-foot addition facing Fayetteville Elementary School that would relocate from the basement the school's  kitchen, cafeteria, and music instructional spaces
Install new elevator for auditorium and balcony access
Create new, secure main entrance area in proposed addition, which would include main office and nurse's office
Expand the existing bus loop
Move front parking lot adjacent to the proposed addition and increase it by 76 spaces (64 to 140)
Create a ramp between the new main entrance and the existing building for  improved accessibility
Renovate and upgrade classrooms, including installing new windows, and create flexible learning spaces
Convert existing front parking lot to an athletic field
Abate asbestos and renovate infrastructure of building's 1933 portion including mechanical systems, windows and roof–which dates back to the original construction) and the existing basement and boiler room
Energy Performance Contract – $3.2 million
Replace boilers at the district office building, Eagle Hill Middle School and F-M High School
Add one boiler to the Instructional Communications Center
Install energy efficient lighting throughout the district
Replace heating system controls
Install more energy efficient pumps
Add and replace building insulation
Related news
Wellwood construction to begin: April 9, 2020
Board approves modular classroom purchase; Wellwood tennis courts taken offline: March 6, 2020
F-M High School unveils newly-renovated library media center: Dec. 11, 2019
Modular classroom suite to temporarily house students during construction: Nov. 26, 2019
State approves Wellwood construction plans; electrical work slated to begin Nov. 18, 2019
Stadium lighting becomes more energy efficient: Sept. 30, 2019
Enders Road addition officially open for business: Sept. 20, 2019
Construction beginning at Enders and F-M High School: April 3, 2019
Facilities project planning continues to move forward: Jan. 7, 2019
F-M voters approve $45.2 million facilities project proposal: Dec. 5, 2017