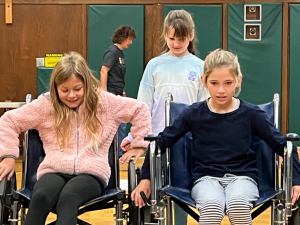 Last month, a group of Fayetteville-Manlius School District students had the opportunity to participate in a simulation program that teaches students what it might be like to live with differences.
On Oct. 14, Enders Road Elementary School third-graders took turns rotating through stations during the We All Learn Differently Olympics, also known as WALDO. Each of the district's elementary schools have hosted the program in the past.
This program gives students hands-on experience in the areas of hearing, fine motor, gross motor, allergies and learning differences.
During the one and a half hour long program, students could rotate through various activity stations. Stations included a world language workshop that gave students the chance to read and write in Chinese and a wheelchair simulation that encouraged participating students to navigate the adaptive device through the school's gymnasium.
At the conclusion of WALDO, students received a booklet containing information about each topic area and the simulation activities so they could keep the conversation about diversity going at home with their families.