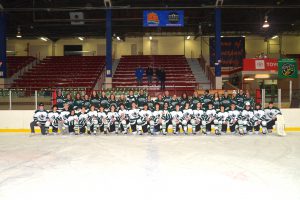 In January, the Fayetteville-Manlius boys varsity ice hockey team honored more than twenty faculty and staff members from F-M, Tully, Bishop Grimes, and East Syracuse Minoa school districts at their Teacher Appreciation Night.
Every year, the team selects a home game to be designated as Teacher Appreciation Night. Each student-athlete on the team invites a teacher or staff member, who has had a positive impact on them, to attend the game with their families.
The event includes a special recognition, written by each student-athlete, acknowledging the impact the selected teacher or staff member has had on them. This year's guests of honor were welcomed to the event with coffee and cookies from Cafe Kubal.
"It was truly an honor to be included in Teacher Appreciation Night and I am grateful for such a special acknowledgement," said Lisa Geraci-Civiletto, Elementary Dean of Students and one of this year's honorees.
The team has been hosting Teacher Appreciation Night for more than a decade and has recognized educators from all levels, including kindergarten through grade 12 teachers, administrators and school resource officers.