On Nov. 3, twenty-five Fayetteville-Manlius School District students competed in the 2022-2023 F-M Spelling Bee.
In order to qualify for the spelling bee, students in grades 5 through 8 from Wellwood Middle School and Eagle Hill Middle School completed a 50 word written test. Out of the more than 130 students who took the challenging exam, the 25 top-scoring students advanced to the oral spelling bee.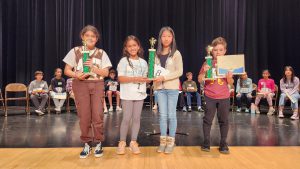 The spelling bee lasted for more than 2 hours and after enduring several rounds of spelling, Leela Kaul and Yuejia Ma were named co-champions.
Taking third place in the competition was Gabriela Scalzetti and fourth place was awarded to Sean McCabe.
The four winning contestants will now advance to the Post-Standard/syracuse.com Regional Qualifying Spelling Bee. This is an online written contest for school finalists that will take place in January.
The top-scoring students from the written contest will participate in the Regional Oral Spelling Bee on Feb. 4 at S.I. Newhouse School of Public Communications at Syracuse University.
The winner of the competition in February will qualify for the Scripps National Spelling Bee in National Harbor, Maryland, which will take place in May.
The National Spelling Bee was started in 1925 and the F-M district has been participating in the Regional Spelling Bee for over 32 years.