Four Fayetteville-Manlius High School students have been selected to participate in the 2022 New York State School Music Association (NYSSMA) All-State Conference.
The F-M students will perform in ensembles with students from across the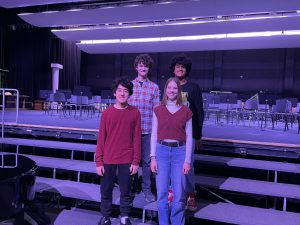 state at the annual NYSSMA conference in Rochester on Dec. 1-4. 
Statewide, thousands of sophomores and juniors auditioned for All-State last spring at NYSSMA solo and ensemble festivals. Students were selected primarily on numerical scores and rankings. Other factors for selection to All-State include instructor recommendations, grade in school, previous All-State performances and participation in additional musical organizations.
The following students qualified for All-State:
Evan Cappers, Mixed Choir – Tenor 1
Gene Balian, Symphony Orchestra – Violin
Ruby Amack, Mixed Choir – Soprano 2
Sankalp Gautam, Symphony Orchestra – Oboe
The following students were designated Alternates in the event a student is unable to attend:
Holly Adamski, Soprano 2
Clare Liu, Violin
Madelyn Malgieri, Alto 1
Lilah Poole, Alto 1
Alex Wu, Cello