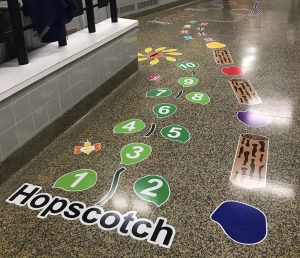 Since Fayetteville Elementary School students returned from winter recess, they have been hopping, jumping and doing push-ups in the hallway— and staff members are encouraging them to do so. 
As part of the school's new multi-sensory pathway that was funded by the FM Education Foundation, students are encouraged to follow a sticker path that tells them when to walk, when to hop and when to take a break and complete a push-up against the wall. 
"The kids were on cloud nine," said third-grade teacher Rachel Bergman, who planned the project with math teacher Lisa Geraci-Civiletto, third-grade teacher Helen Jarvi, physical therapist Jeanine Quirk, occupational therapist Teresa Wildhack and third-grade teacher Lara Zullo. 
In November, they received a $2,514 grant from the FM Education Foundation that they used to purchase floor and wall stickers to engage students and encourage movement during the school day. During winter break, the school's custodial staff prepped the floors, and staff members came in to place the stickers in the school's main hallway so the pathway would be ready when students returned to school Jan. 6.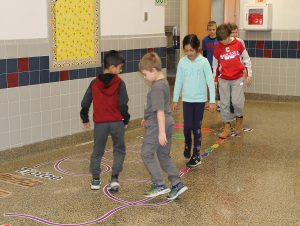 They designed the path so students can make a continuous loop, which is best for designated movement breaks, or follow the stickers on a one-way trail as the students pass through the hallway and there is less time.  
Some teachers have brought their entire class to the path for a short movement break, and some students have used it on an individual basis. 
"Students need to be mentally available to learn," Bergman said. "When they come back from using the sensory path, they are ready to learn." 
The staff members have several more stickers they plan to affix in other areas of the building, including an area that will be developed for students who need a calming break, which will lead students through various poses and stretches, and an alphabet hopscotch area, which will help younger students with their letter recognition skills. 
Enders Road Motor Labs and Sensory Pathway
At Enders Road Elementary School, the education foundation granted occupational therapist Lynda Poole, physical therapist Patt Muller and third-grade teacher Karen Gugino a $2,227 grant to establish six motor lab stations and a sensory path, similar to Fayetteville Elementary's, within the school. 
Poole said they submitted the grant request because staff members have been noticing that more students need support with motor skills, such as holding a pencil, writing and tying shoelaces.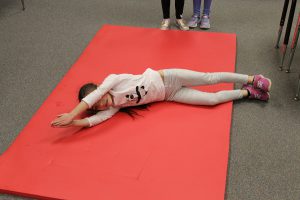 When using the motor lab, students spend about one minute at each of the stations where students stretch, roll and work on their balance.
First-grade teacher Melanie Addai takes her students to the motor lab several times throughout the week.
"I do give up eight minutes for the activity, but I find I gain that time back because the students are ready to learn when we return to class," Addai said. "I find just taking that short break gets them re-energized."
Foundation awards grants across the district
During fall 2019, educators at each of the district's six schools received grants from the FM Education Foundation, which is a non-profit organization with a separate board and budget from the school district. The foundation's mission is to enhance the academic experience of students by partnering with the community and educators to create innovative opportunities that are beyond the district's curriculum and resources, according to the foundation's website. 
Since the foundation reorganized in 2016, it has awarded more than $33,000 to F-M educators, including over $10,000 in grant awards in fall 2019. Grant application deadlines are in March and November. 
The foundation is supported through community donations and operates independently from the district. For more information about the foundation, the types of projects it funds and how to donate, go to the foundation's website. 
Fall 2019 Grant Recipients
Flexible Seating in the Classroom
School: Mott Road Elementary 
Teacher: Kristin Kettell
Amount: $450
Zine and Notebook Making Workshops – Lightning Grant
School: Fayetteville-Manlius High School
Teacher: Mary Patroulis with Emily Cleckner
Amount: $515
Motor Labs and Sensory Motor Pathways: School-Wide Movement Initiatives
School: Enders Road Elementary 
Teacher: Lynda Poole with Patt Muller, Karen Gugino
Amount: $2,227
Flex-Space Learning Zones
School: Enders Road Elementary
Teacher: Melanie Addai
Amount: $1,085
Multi-Sensory Pathway
School: Fayetteville Elementary
Teacher: Lisa Geraci-Civiletto with Rachel Bergman, Helen Jarvi, Jeannine Quirk, Teresa Wildhack and Lara Zullo
Amount: $2,514
Numberless Math Programs at Wellwood – Lightning Grant
School: Wellwood Middle School
Teacher: Andra Myers
Amount: $369
Build an Esports Ready Computer Proposal
School: Fayetteville-Manlius High School
Teacher: Patricia Stokes and Amy Fiorito
Amount: $1,700
Magnetic Poetry – Lightning Grant
School: Wellwood Middle School
Teacher: Ellen Tapley
Amount: $490
Coding with TI-Innovator Hubs and TI-Innovator Rovers
School: Eagle Hill Middle School
Teacher: Patricia Winje
Amount: $2,000