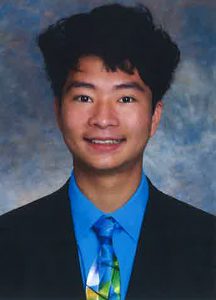 A Fayetteville-Manlius High School senior has been named a top scholar out of nearly 2,000 students, earning himself and his school $2,000 each and a shot at a $250,000 individual prize.  
Maximilian Du has been named a top 300 scholar in the 79th Regeneron Science Talent Search—the nation's oldest and most prestigious science and mathematics competition for high school seniors. The $2,000 school award that will go to F-M High School is to be directed toward STEM-related activities. 
On Jan. 22, 40 of the 300 scholars will be named Regeneron Science Talent Search finalists. Finalists will receive $25,000 and an all-expense-paid trip to Washington, D.C., from March 5-11, when they will compete for more than $1.8 million in awards provided by Regeneron. The top prize is $250,000. 
The Regeneron Science Talent Search scholars presented original research and were selected from 1,993 applications received from 659 high schools across 49 states, Washington, DC, Puerto Rico, Guam and eight countries. 
Research projects covered topics from medicine and health to environmental science. Maximilian's project was called, "Decreasing Renewable Energy-Induced Power Grid Instability Through the Improvement of LSTM Neural Networks for Better Short-Term Wind Power Predictions."
Scholars were chosen based on their exceptional research skills, commitment to academics, innovative thinking and promise as scientists and represent 192 American and international high schools in 39 states and Guam.