To gain new perspective on teaching foreign language, two Fayetteville-Manlius School District educators recently spent four days with more than 300 colleagues in the French West Indies.
In July, F-M foreign language teachers Dr. Denise Mahns and Mr. Richard Ernst attended the 91st Annual American Association of Teachers of French (AATF) convention where French teachers from around the globe gathered in Martinique to discuss French teaching techniques and promote foreign language study.
Through lectures led by guest speakers, presentations, and open forum discussions, convention participants spent a portion of the four-day event learning about the history of Martinique, which is a mountainous and densely-populated overseas department of France, shared teaching resources, and discussed how a student-centered learning approach and interpersonal cultural activities could attract more foreign language students.
During the event, Dr. Mahns and Bob Jones University's Modern Language and Literature Division Chair Dr. Jeremy Patterson presented a session to colleagues focusing on literary manifestos from the French-speaking Americas (Quebec and the Caribbean). She also achieved third place during the convention's dictee contest – a traditional French practice that tests participants' language mastery through spelling and grammar exercises.
Mr. Ernst has been teaching foreign language for 42 years, including 32 at F-M. Dr. Mahns has been a foreign language teacher at F-M for 13 years.
Founded in 1927, the AATF is the largest national association of French teachers in the world. The organization is comprised of 70 local chapters and is governed by a national executive council of 18 members, according to its website.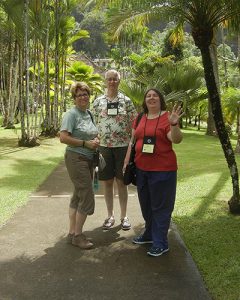 Fayetteville-Manlius School District French teachers Richard Ernst (center) and Denise Mahns (right) stand with South Jefferson Central School District French teacher Ms. Francoise Piron during the 91st Annual American Association of Teachers of French convention in Martinique.