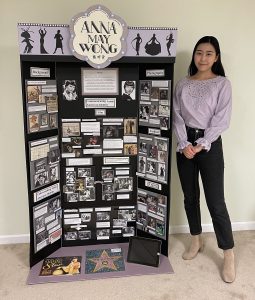 An F-M High School junior has earned a spot competing in the National History Day 2021 National Contest.
Junior Peilin Lu, a member of F-M High School's National History Day Club, won second place in the Senior Exhibit category at the New York State National History Day competition that was held April 30, qualifying her for the national competition, which will take place virtually in June. 
The National History Day contest is held annually at regional, state and national levels. Students work independently or in small groups to complete a research project on a topic of their choice that connects to the contest's central theme. This year's theme is, "Communication in History: the Key to Understanding." 
The project presentation can be a research paper, exhibit, documentary, website or performance, according to the National History Day website. Submissions are evaluated by a panel of judges based on historical quality, relation to theme and presentation clarity.
There were three F-M teams that submitted projects in March for the regional competition: 
Miranda Zheng, Jennifer Dong, Elena Coman, and Ziye Wang worked together to create a documentary entitled "The Call of Music: Musicians, Music, Communication, and the War." They

earned first place in the senior documentary category. 

Maddy Krueger and Meg Lorraine created a documentary called "Bolshevik Communication and the Downfall of the Romanov Dynasty." They

earned second place in the senior documentary category. 

Peilin submitted an exhibit entitled "Anna May Wong: Reshaping Asian-American Representation through Communication." She earned first place i

n the senior exhibit category.

 
In a typical year, finalists in the national contest would meet on the campus of the University of Maryland for a weeklong celebration culminating in the announcement of the national-level winners. Due to COVID-19, this year the competition will take place online and results will be announced in June.