Fayetteville-Manlius School District senior Angela Wu recently received an $800 scholarship from the German-American Society of Central New York.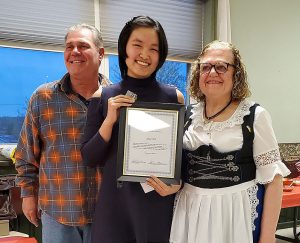 On April 29, Angela was honored at the society's annual German Student Scholarship Night, along with four other students from area high schools. The German-American Society of CNY established the German Student Scholarship Program to provide college financial assistance to high school seniors who are students of the German language, according to the society.
To be eligible, a student must be an enrolled high school senior from an Onondaga or Oswego county school district that teaches German in its high school; must be a U.S. citizen who has studied a minimum of two—and preferably three—years of the German language in high school; must have been accepted, or have acceptance pending, for admittance to any accredited college, university, business or training school in the U.S. as a full-time student for the fall 2019 semester—and enter the college for the fall 2019 semester; and give a short acceptance speech in both German and English.