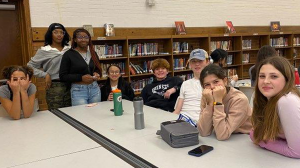 Eighth-grade students at Eagle Hill Middle School recently finished a program that provided opportunities to reflect on their own identities and cultures, affirm other's identities and cultures and celebrate diversity.
Fifteen Eagle Hill Middle School students and fifteen Grant Middle School students from the Syracuse City School District participated in this year's 8th Grade Dialogue Exchange Program.
The students visited each other's schools for a half day to engage in open discussions about race, privilege and stereotypes. In an effort to build trust and community, students ate lunch together and participated in icebreaker activities.
The program partnered with InterFaith Works of Central New York, an organization whose mission is to build racial and religious equity and cultivate understanding, to help facilitate the sessions.
"By having the students take part in these conversations and interactions, it promotes the development of a more inclusive school community that fosters a sense of belonging for all students," said Meghan Pomeroy, Eagle Hill program coordinator and teacher.
This year's program ran from October to January for a total of 6 collaborative sessions. Each school also held one independent action planning session in which students defined ways to create an inclusive and equitable school environment.
This was Eagle Hill's third year of the 8th Grade Dialogue Exchange Program and similar programs are offered at Wellwood Middle School and F-M High School. According to Pomeroy, Eagle Hill is looking to expand its program to include grades 5, 6 and 7 for the 2023-24 school year.