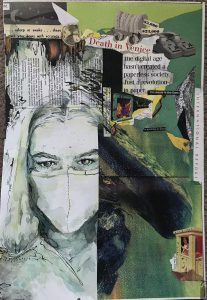 Fayetteville-Manlius High School students were recently recognized with a total of 41 awards in the 2021 Central New York Regional Scholastic Art & Writing Awards competition. The competition is the nation's longest-running and most prestigious recognition program for teens in grades 7-12.
The Central New York Region includes 13 counties and nearly 400 eligible schools. Judges evaluate entries for their originality, technical skill and the emergence of personal voice or vision, according to the Scholastic Art & Writing Awards website. 
F-M High School students earned 12 Gold Key Awards, 10 Silver Key Awards and 17 Honorable Mention Awards, including one Gold Key Portfolio Award, one Silver Key Portfolio Award and one Honorable Mention Portfolio Award.
Works that earned a Gold Key Award are automatically considered for national awards.  
Two F-M students also won special awards: senior Lydia Coombs was named an American Visions Nominee for a piece submitted in the Drawing & Illustration category, and senior Grace Bloom received the Best Art Portfolio
in Central New York award.
Gold Key – 12 awards
Grace Bloom; Grade 12; Painting

Grace Bloom; Grade 12; Art Portfolio

Karen Burgess; Grade 11; Photography

Lydia Coombs; Grade 12; Drawing & Illustration (2 awards)

Catherine Jia; Grade 11 Photography 

Madison Krouse; Grade 12; Drawing & Illustration 

Abbey Maring; Grade 12; Art Portfolio 

Minerva Miller; Grade 9; Ceramics & Glass 

Aum Patel; Grade 11; Photography (2 awards)

Ziye Wang; Grade 11; Digital Art 
Silver Key – 10 awards
Kylie Beam; Grade 12; Design 

Grace Bloom; Grade 12; Painting 

Ava Bybee; Grade 10; Painting 

Sophie Heffner; Grade 12; Art Portfolio 

Angela Iskander; Grade 10; Painting 

Catherine Jia; Grade 11; Drawing & Illustration 

Abbey Maring; Grade 12; Drawing & Illustration 

Cadence Panol; Grade 11; Editorial Cartoon 

Laura Scalzetti; Grade 11; Comic Art 

Harper Stoppacher; Grade 11; Drawing & Illustration 
Honorable Mention – 17 awards
Grace Bloom; Grade 12; Painting 

Ellrose Hanlon; Grade 11; Film & Animation 

Mary Holder; Grade 11; Photography (2 awards)

Madison Krouse; Grade 12; Art Portfolio 

Madelyn Krueger; Grade 11; Drawing & Illustration 

Claire Lee; Grade 10; Drawing & Illustration (2 awards) 

Abbey Maring; Grade 12; Drawing & Illustration (2 awards)

Minerva Miller; Grade 9; Painting (3 awards)

Minerva Miller; Grade 9; Photography

Brigid Teaken; Grade 11; Painting 

Ziye Wang; Grade 11; Drawing & Illustration (2 awards)
American Visions Nominee
Lydia Coombs; Grade 12; Drawing & Illustration 
Best Art Portfolio in Central New York
Grace Bloom; Grade 12; Art Portfolio