The annual Fayetteville-Manlius Oral Spelling Bee came down to a nearly 15 minute head-to-head battle between Sven Chiroiu-Gozman and Avya Mangla. The final word: horticulture, which Avya spelled to take first place. Sven, Adalyn Thibodeaux, and Madeline Howes Hanlin rounded out the top four contestants.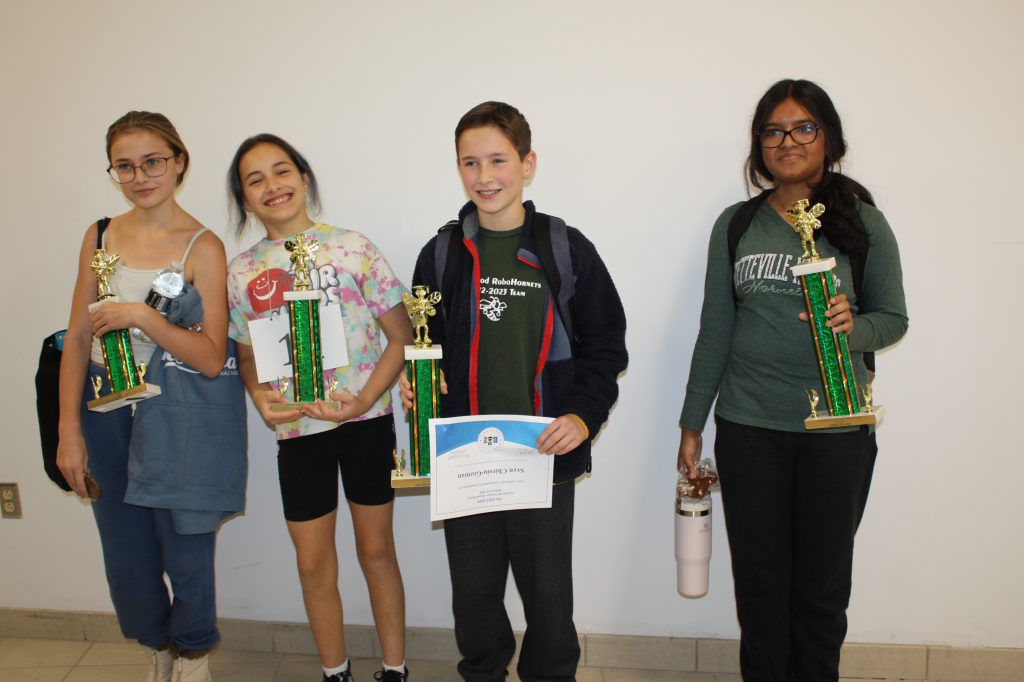 In total, 25 students from both Eagle Hill and Wellwood Middle Schools participated in the spelling bee. In order to qualify, students in grades 5 through 8 completed a 50 word written exam. Out of the more than 150 students who took the challenging exam, the 25 top-scoring students advanced to the oral spelling bee.
The spelling bee lasted for more than two hours. The four winning contestants will now advance to the Regional Qualifying Spelling Bee: an online written contest for school finalists that will take place in January.
The top-scoring students from the written contest will participate in the Post-Standard/syracuse.com Regional Oral Spelling Bee at S.I. Newhouse School of Public Communications at Syracuse University.
The winner of the competition at SU will qualify for the Scripps National Spelling Bee in Washington, D.C., which will take place in May.
The National Spelling Bee was started in 1925 and the F-M district has been participating in the Regional Spelling Bee for over 33 years.
All Fayetteville-Manlius Spelling Bee participants include: David Park, Leela Kaul, Sven Chiroiu-Gozman, Yuejia Ma, Kellan Davin, Hazel Bazzano, Elizabeth Banashkevich, Atticus Tang, Amina Alemic, Maheen Iqbal, Adalyn Thibodeaux, Loralei Derschang, Rishi Kaul, Kevin Zeng, Sean McCabe, Avya Mangla, Irisha Alam, Nandan Peddibhotla, Alexandra Cech, Pierce Rubenstein, Austin Byler, Alishba Rehman, Andrew Cheng, Madeline Howes Hanlin, and Jaxson Fuller.