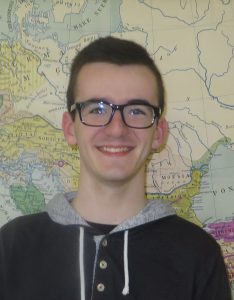 More than 130 Fayetteville-Manlius School District students studying Latin recently received awards on the 2019 National Latin Exam, including seven students who earned perfect scores.
The exam, which was administered in March, is not meant to be a competition but rather an opportunity for students to receive reinforcement and recognition, according to the National Latin Exam website. The exam is a 40-question, multiple-choice test with a 45-minute time limit and is given at seven levels, according to the website. Students may earn certificates, medals and even qualify for scholarships.
There were 139,000 students worldwide who took the test, which is sponsored by the American Classical League and the National Junior Classical League. It was offered in all 50 states and 20 other countries.
Fayetteville-Manlius High School Results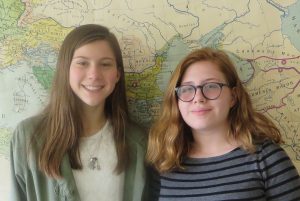 Eighty Fayetteville-Manlius High School students received awards on the National Latin Exam. Sophomore Emma Kronenberg and freshman Emma Vandewater each earned perfect scores, and senior Patrick Barrett was one of 85 students worldwide to earn his fifth consecutive gold medal with this year's Latin V/VI exam.
Students winning their fourth consecutive gold medals include juniors Gabriela Fontaine, Carter Hale, Michael Jia and Elijah Taeckens.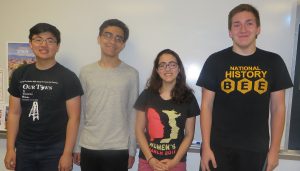 Other high school students winning gold medals and the designation of summa cum laude were Sarah Crovella on the Latin IV exam; Keara Polovick, Nora Langan, Brynn Taylor, Catherine Cole, Nicholas Tagtmeyer, Allison Wilde, Michael Reikes, Isabel Crovella, Elise Beckman, Erin McDowell, Alexis Ahn, Lucas Weires, Callum Newton and Leo Pieples on the Latin III exam; and on the Latin II exam, Rishi Aeleti, Edward Elliott, Andrew Ahn, Henry Knapick, Michael OuYang, Nadia Taeckens and Miranda Zheng.
Earning a silver medal and designation of maxima cum laude were Alicia Perkovich, Avery Bower, Annaliese OuYang and Preston Koester on the Latin V/VI exam; Alexander Williamson, Zachary Vinci, Sarah Chack, Cecilia Byer, Eli Seamans, Megan Burnett and Nicholas Hoalcraft on the Latin IV exam; Ryan Everding, Zoe Costanza, Seth Bailey, Samuel Wilks, James Perkovich, Harper Stoppacher, Annastaizshia Frick, Grace Bloom, Ryan Hill and Miles Marney on the Latin III exam; and Gwenyth Iles, Patrick Lettery, Gurkirat Mangat, Fergus Brady, Daniel Patrick, Ava Abruzzese, Jonas Stinziano, Milo Sinclair and Patrick Hollister on the Latin II exam.
Earning magna cum laude designation were Meghan McDowell on the Latin V/VI exam; Michael Hockenberger, Vaughan O'Dell and Nicole Engel on the Latin IV exam; and Juliana Buonfiglio and Claire Grenis on the Latin III exam. Sean O'Malley, Colton Baum, Charles Brooks and William Forbes earned a magna cum laude on the Latin II exam.
Earning cum laude designation were Matthew Baum and Riley Ma on the Latin V/VI exam; Andrew Corbin on the Latin IV exam; Kevin Malone, Braydon Downs, Lucille Fowler and Kara Schemm on the Latin III exam; and Amelia Amack, Abigail Adler, Kamran Towhid and Samuel Spignardo on the Latin II exam.
Eagle Hill and Wellwood Middle School Results
Fifty-three Eagle Hill and Wellwood middle school students earned awards on this year's National Latin Exam, which they took as first- and second-year Latin students.
Five students earned perfect scores on their exams: Eagle Hill seventh-graders Kyler Patrick and Christopher Shanguhyia, Wellwood eighth-grader Lilah Poole and Wellwood seventh-graders Vincent Hunt and Georgia Langan.
Eagle Hill Latin I students earning gold medals and summa cum laude designations include Sara Kronenberg, Marissa Zhai and Noah Taeckens. Earning gold medals from Wellwood were Lilah Poole, Wyatt Steele, Dylan Crysler and Marcella Grubka.
Earning silver medals and maxima cum laude designations were Wellwood students John Henderson and Xen Warner and Eagle Hill students Evan Newton, Anthony Ahn, Christopher Chack, Paul Cange and Sarah Bailey.
Jack Vredenburgh, George Knapick and Julia Gorman of Eagle Hill and Liam Malgieri and Chloe Dion of Wellwood earned magna cum laude designations on their exams.
Earning cum laude, or with praise, designation, was Liam Hartnett-Weare of Wellwood.
Seventh-grade Latin students at both middle schools took the Introduction to Latin exam. Earning a designation of Outstanding Achievement were Wellwood students Vincent Hunt, Georgia Langan, Nathan Liu, Minerva Miller, Emma Stoppacher, Abby Bird, Lindsay Caltabiano, Christine Lin and Daniel Cole; and Eagle Hill students Kyler Patrick, Christopher Shanguhyia, Liam Qi, Jillian Hack, Grace Corbin, Holly Adamski, Colin Byer, Christian Kneaskern, Olivia Barnhart, Kirsten Iles, Reese Niccolls, Jayanthan Karthikeyan, Sawyer Brown, Andrew Fitts and Jason Brose.
Earning achievement certificates on their exams were Eagle Hill students Carter Patton, Michael McAndrew, Catherine Rizzo, Tyler Koehne, Maura Granzow, William Pike and Lucas Mosher and Wellwood students Sofia Kenney and Adam Taylor.