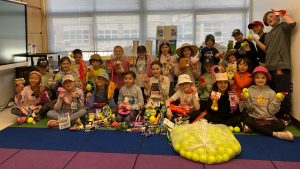 Fayetteville-Manlius School District students lent a helping hand to a local dog rescue in order to provide hope to dogs in search of their forever homes.
In March, students at Fayetteville Elementary School collected items for Helping Hounds Dog Rescue, a non-profit organization that works to find permanent homes for rescue dogs in Central New York.
The donation drive was hosted by Better Environment for Everyone (BEE) Council, a group of Fayetteville Elementary students who work to help the school community and the local community. Through their collection efforts, students donated dozens of items that are in high demand at the rescue, including paper towels, leashes, collars and dog toys.
Every year the council makes it their mission to contribute to a philanthropic organization. Past efforts have helped support David's Refuge, The Samaritan Center, Golisano Children's Hospital and The Ronald McDonald House.