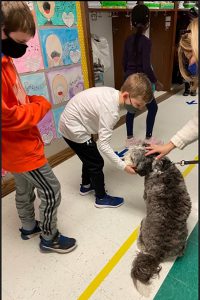 Enders Road Elementary School has a new member of the school community: Bowie the Bernedoodle.  
Bowie is a therapy dog who belongs to Enders Road kindergarten teacher Taylor Brown. She plans to bring Bowie to school two half-days each school week so he can spend time with cohort A and cohort B students. He will also participate in remote instruction so cohort C students can meet him.
The Fayetteville-Manlius School District launched its therapy dog program in 2019-20 with the introduction of Kiki the Cockapoo at F-M High School. The high school expanded its program in 2020-21 to include Charlie, a 3-year-old Bernedoodle who belongs to English teacher Scott DeForest, and Joey, a 5-year-old Black Mouth Cur, who belongs to biology teacher Kayla Cocquyt. 
The district's strategic plan includes a focus on creating a positive school environment, and launching the therapy dog program is one way staff members are supporting students as students deal with increasing stress and anxiety.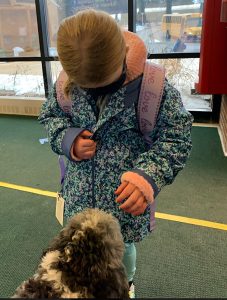 "Having a therapy dog at Enders has been part of our building strategic action plan since last year as we try to offer multiple avenues to support the social-emotional needs of our school community," Enders Principal Deborah Capri said.    
Bowie, who passed his Canine Good Citizen test, will spend time in Brown's classroom as well as with one of the school's counselors or psychologists, visiting classrooms or students during recess. While on school grounds, he will always be on a leash and accompanied by an adult.  All interactions with Bowie will be voluntary so everyone within the building feels safe and comfortable.