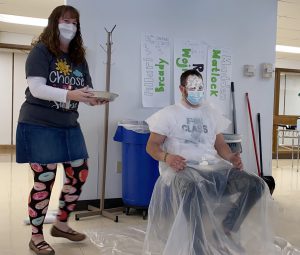 Pie can be a very motivating factor for middle school students, and not necessarily eating pie, but the prospect of adults getting a whipped cream pie smushed in their faces. 
Eagle Hill Middle School teacher Rebecca Stephens challenged her five seventh-grade classes to compete against one another in a coin drive to raise money for the FM Food Pantry and to earn the distinction of the GOAT (Greatest of All Time) Homeroom.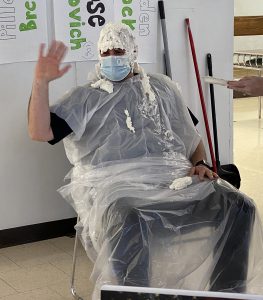 School Resource Officer Dan Filip joined in the fun and agreed to be "pied" if the students collectively raised $1,000. Teaching assistant Dan Maloney said he would be pied if they raised $1,500, and Stephens volunteered to be a target if they hit $2,000.  
The five classes surpassed all three amounts, raising $2,451.02, which will pay for 7,353 meals.  
As a part of their government unit, Stephens talked with students about the importance of being a good citizen and giving back to the community. She said she hopes that the activity gave students an understanding of the importance of giving to those who are less fortunate. They also talked about the impact the COVID-19 pandemic is having on many families. 
Sno Top in Manlius donated ice cream cone gift certificates to the winning homeroom, and SECNY waived the change counting fee.