A group of Fayetteville-Manlius middle school engineers are making their mark on the local youth programming and robotics scene.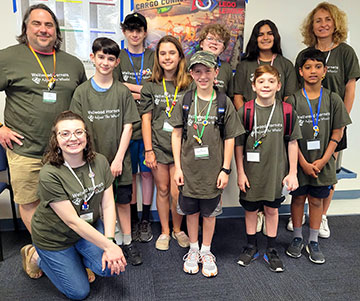 On May 21, the Wellwood Hornets robotics club competed in the FIRST LEGO League (FLL) event "Cargo Connect," which was held at Onondaga-Cortland-Madison BOCES. Participating students from Central New York schools were tasked with designing and building a robot that could potentially reinvent the future of transportation, including how cargo is transported, sorted and delivered.
To prepare for the competition, Wellwood students spent time after school designing and coding a robot that could successfully resolve a real-world challenge and complete various missions in two-and-a-half minutes or less. 
During the event, each team's robot navigates a series of contests on a playing field. For the Cargo Connect challenge, robots were evaluated by a panel of judges based on the machine's safety, efficiency, access and connections.
The competitions were followed by individual team presentations, in which each student group shares the framework and ideology behind their invention, as well as the specific real-world problem the robot is working to resolve.
During their presentation, Wellwood students discussed why they did not use a lot of code when designing their robot.
"Our coding is actually very simple and it gets the job done nicely," a Wellwood team member said. "More code means the potential for bugs, or more things to fix."
The F-M students each took turns talking to the judges and shared information about their robot, its programming and how each team member and the group's two coaches, F-M computer resource teachers Brooke Ebersold and Steve Carbone, contributed to the invention's success.
Wellwood's team received the teamwork award at the event's conclusion. 
This is the first year F-M has a middle school team competing in the FLL program, which is designed to inspire young people to experiment and grow their confidence and critical thinking and design skills through hands-on STEM learning, according to the FLL's website.