The sixth-grade students at Eagle Hill Middle School recently wrapped-up their nonfiction unit with a visit from children's author Alicia Klepeis.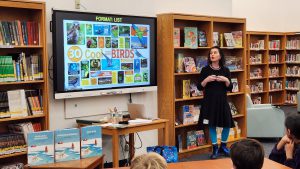 Klepeis has written approximately 190 nonfiction and fiction books for children about animals, countries, ecosystems, famous people, outer space, science and history. In addition to authoring books, she writes articles for various outlets including National Geographic Kids.
During Klepeis's visit to Eagle Hill she spoke with students about her path to becoming a writer and how her international travel inspires her writing. She also discussed the writing process and the importance of research, writing multiple drafts and editing.
Students had the opportunity to engage in a hands-on writing exercise, led by Klepeis, that challenged students to "think like a nonfiction author" and brainstorm research topics based on photos that Klepeis shared with students.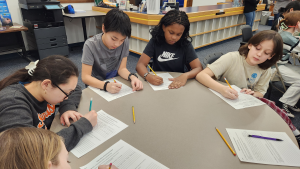 Klepeis currently resides in Hamilton, NY but her time spent in Africa, Antarctica, Asia and Australia is reflected in many of her books such as "Penguins & Polar Bears: A Pretty Cool Introduction to the Arctic and Antarctic," "The Boomslang Snake," and "24 Hours in the Taiga (A Day in an Ecosystem)."