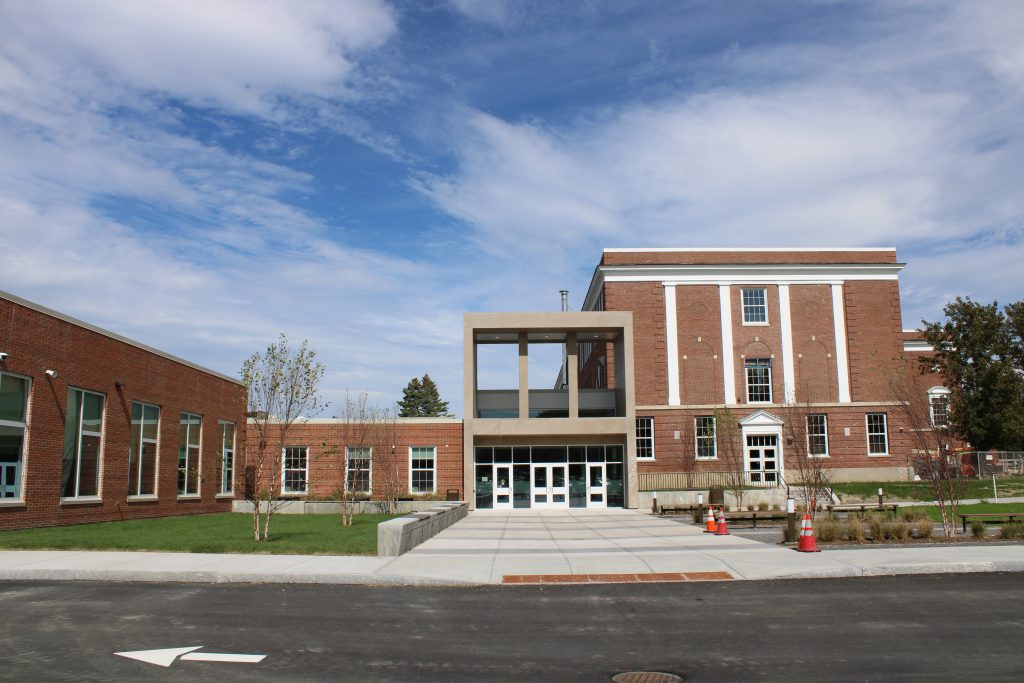 With the bulk of its 2017 voter-approved capital project complete, the Fayetteville-Manlius School District is inviting community members to see first-hand the renovated and new spaces within the district's oldest and most recognizable building. 
"We are excited for our community to see how our students and staff at Wellwood Middle School are benefiting from our residents' investment in our schools," Superintendent Craig J. Tice said. "Students are no longer trying to learn in cramped, inadequate spaces—some of which were in the building's basement—never designed for the purposes that we used them for out of sheer necessity." 
In December 2017, district residents approved a $45.2 million capital project proposal that targeted fixing aging infrastructure, adding instructional space, enhancing security, improving accessibility for people with disabilities and creating energy efficiencies across the district. The project included renovations and an addition at Wellwood as well as an addition to Enders Road Elementary School and updates to F-M High School's bathrooms and library media center. 
Work at Enders Road and the high school is finished, and Wellwood is nearing completion, with students and staff already using its new spaces, including its new cafeteria and music and art classrooms and the renovated library media center and general education classrooms, which dated back to the school's original 1933 construction. 
"We are so thankful for the community's support of the Wellwood project," Wellwood Principal Melissa Corbin said. "We want every student who attends school here to have the best possible experience, and we know that the physical school environment plays a big role in a student's educational experience."
Open House Information
There will be two open house times scheduled for Nov. 2: 2 p.m. and 6 p.m. After a brief introduction in the school foyer, district staff will take attendees on an approximate 30-minute tour of Wellwood's new and renovated spaces. 
Those interested in attending are asked to RSVP by 12 p.m. Nov. 1 so the district can plan for the number of guests as well as have information on file in the event that COVID-19 contact tracing is necessary. In keeping with the district's COVID-19 school reopening plan, attendees will be expected to wear a face mask indoors throughout the event. The district will have masks available for those who need one, and hand sanitizing stations are available throughout the building. 
There will be no students in the school on Nov. 2 as it is a staff development day, and there will be no classes. The district had planned to offer a morning community tour but has canceled that due to the staff development sessions that will be taking place throughout the building in the morning. 
Prior to students and staff returning to school on Nov. 3, custodial staff will clean and disinfect the areas community members visit as part of each tour. 
What work was involved in the 2017 capital project?
Enders Road Elementary School 
Constructed an approximate 4,000-square-foot addition facing the playground, adding three large classrooms, two small classrooms and restrooms to be used during recess

Renovated existing locker rooms (previously used for storage) into restrooms, storage space and offices for the gymnasium

Installed partitions for instructional flexibility in four small existing classrooms

Created a new single restroom

Replaced obstructed sanitary line located under floor slab

Consolidated heating system from multiple boilers into two new boilers
Fayetteville-Manlius High School 
Upgraded 10 restrooms dating back to the 1960s to better align with the Americans with Disabilities Act (ADA)

Renovated and expanded library to meet student demand

Renovated central kitchen area into support spaces
Wellwood Middle School
Constructed an approximate 15,000-square-foot addition facing Fayetteville Elementary School that relocated from the basement the school's kitchen, cafeteria and music instructional spaces

Installed new elevator for auditorium and balcony access

Created new, secure main entrance area, which includes main office and nurse's office

Expanded the existing bus loop

Moved front parking lot adjacent to the new addition and main entrance, increasing it by 76 spaces (from 64 to 140 spaces)

Created a ramp between the new main entrance and the existing building for  improved accessibility

Renovated and upgraded classrooms, including installing new windows and creating flexible learning spaces

Converted the former front parking lot to an athletic field (in progress)

Abated asbestos and renovated infrastructure of building's 1933 portion, including mechanical systems, windows and roof–which dates back to the original construction–and the existing basement and boiler room
Energy Performance Contract 
Replaced boilers at the district office building, Eagle Hill Middle School and F-M High School

Added one boiler to the Instructional Communications Center building

Installed energy efficient lighting throughout the district

Replaced heating system controls

Installed more energy efficient pumps

Added and replaced building insulation