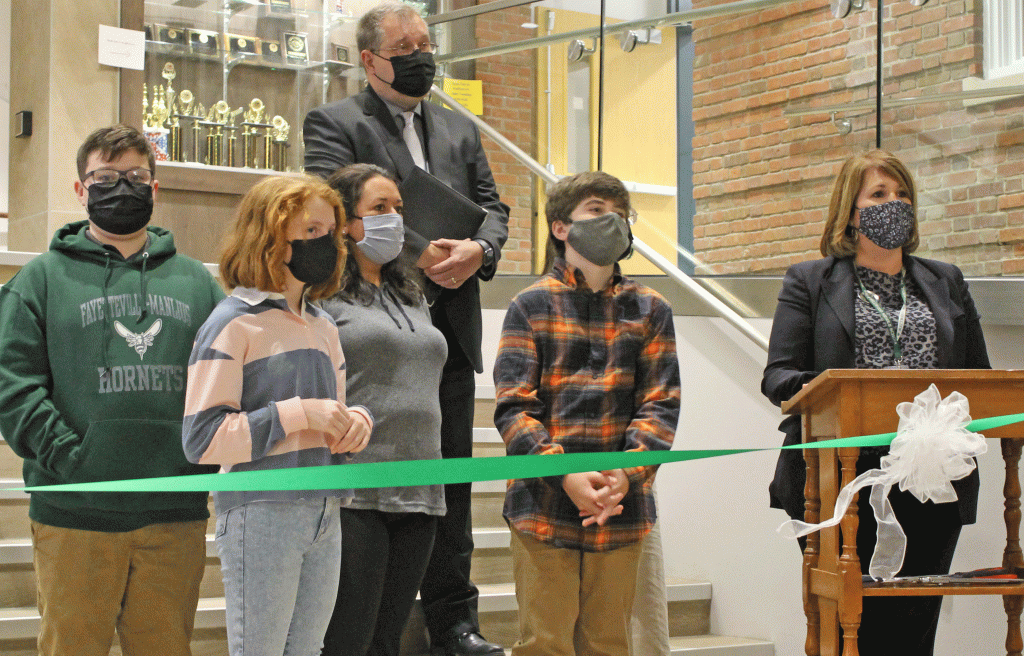 On Nov. 2, Fayetteville-Manlius School District held an official ribbon-cutting ceremony and evening open house event to mark the opening of Wellwood Middle School's new addition and renovated instructional spaces.
The ceremony comes nearly four years after district residents approved a $45.2 million capital project proposal that targeted fixing aging infrastructure, adding instructional space, enhancing security, improving accessibility for people with disabilities and creating energy efficiencies across the district. The project included renovations and an addition at Wellwood, as well as an addition to Enders Road Elementary School and updates to F-M High School's bathrooms and library media center.
"We are excited for our community to see how our students and staff at Wellwood are benefiting from our residents' investment in our schools," Superintendent Craig J. Tice said. "Students are no longer trying to learn in cramped, inadequate spaces—some of which were in the building's basement—never designed for the purposes that we used them for out of sheer necessity."
Work at Wellwood is nearing completion, with students and staff already using its new cafeteria and music and art classrooms, and the renovated library media center and general education classrooms, which dated back to the school's original 1933 construction.
"Wellwood has gone through quite a transformation," Wellwood Principal Melissa Corbin said during the Nov. 2 ceremony. "We want every student who attends school here to have the best possible experience, and we know that the physical school environment plays a big role in a student's educational experience."
Following the ribbon-cutting ceremony, district administrators led building tours so that attendees could see for themselves the new and renovated spaces. Small group tours were also offered earlier that afternoon.