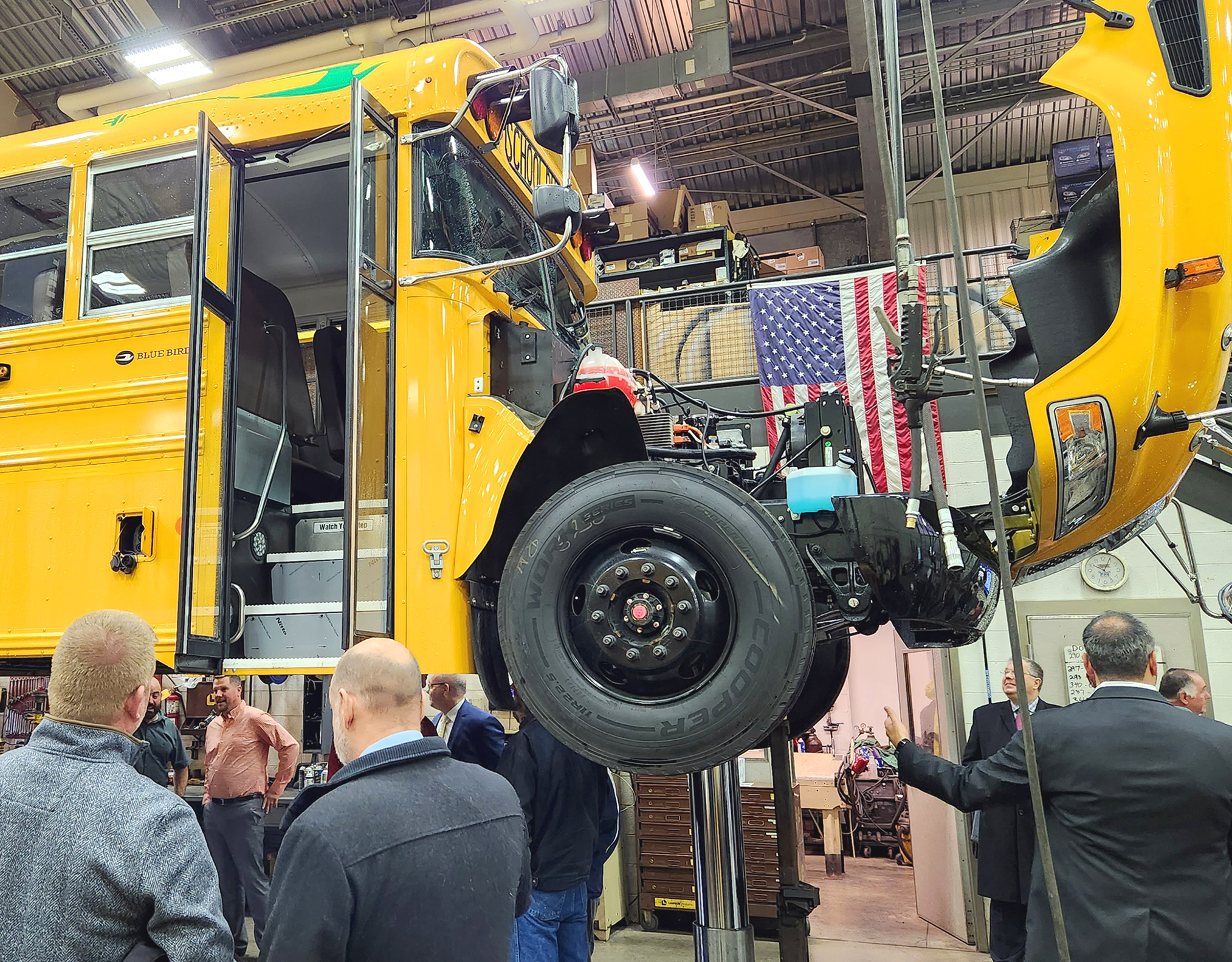 In December, Fayetteville-Manlius School District hosted an electric bus informational session that was attended by district leaders from across Central New York, including Jamesville-DeWitt, West Genesee, Fabius-Pompey, and Pulaski central school districts.
The session included an in-person electric bus tour and demonstration, as well as a presentation led by representatives from Blue Bird, the leading independent designer and manufacturer of school buses. Blue Bird's electric school buses are deployed throughout school districts in the United States and Canada.
Starting July 1, 2027, New York state will require that all school bus purchases be electric, and by July 1, 2035, all diesel-fueled school buses will need to be replaced with electric buses.
The district estimates the cost of a 60+ passenger electric bus to be approximately $475,000. The district's current buses of similar size cost approximately $194,000.
"As of now, it does not appear that the F-M district would qualify for existing funding or grants, which have been prioritized for low income and rural districts," Assistant Superintendent for Business Services Brad Corbin said. "We're exploring our options on how to overcome the economic challenges associated with this transition while being mindful of the district taxpayers."
Compared to diesel-fueled buses, electric buses reduce fuel and maintenance costs with no engine oil changes, no engine air filter changes, no smog check/testing, no transmission maintenance, and fewer brake pad and coolant changes, which can translate into long-term savings.
In addition to the expense of the electric buses, the district is taking into consideration staff training, facilities and potential utility, infrastructure, and travel limitations.
Electric buses can travel up to 120 miles on a single charge, but the performance and longevity of electric bus batteries is dependent on topography, weather, charging practices, bus storage and parking configurations, and it is unknown how local factors will contribute to battery degradation.
The district is also evaluating current parking accommodations and space. Blue Bird offers two different types of charging stations for their electric buses: one that can charge an electric bus in approximately three hours and one that can produce a full charge in about eight hours. The faster charging station is about the size of a refrigerator, and the slower charging station is roughly one cubic foot.
The current bus parking lot does not meet the space requirements to incorporate charging stations. According to a representative from Blue Bird, an indoor parking facility provides an ideal storage and charging environment for electric buses that helps extend battery life – something that the district does not have.
"We want to be leaders in the community through this initiative and we also acknowledge that it is a relatively new technology and with that comes a level of uncertainty," F-M Superintendent of Schools Craig J. Tice said. "Making the transition to electric buses is a big undertaking, not just for our district, but across the state."