With the help of her school, Fayetteville Elementary first-grader June Finnegan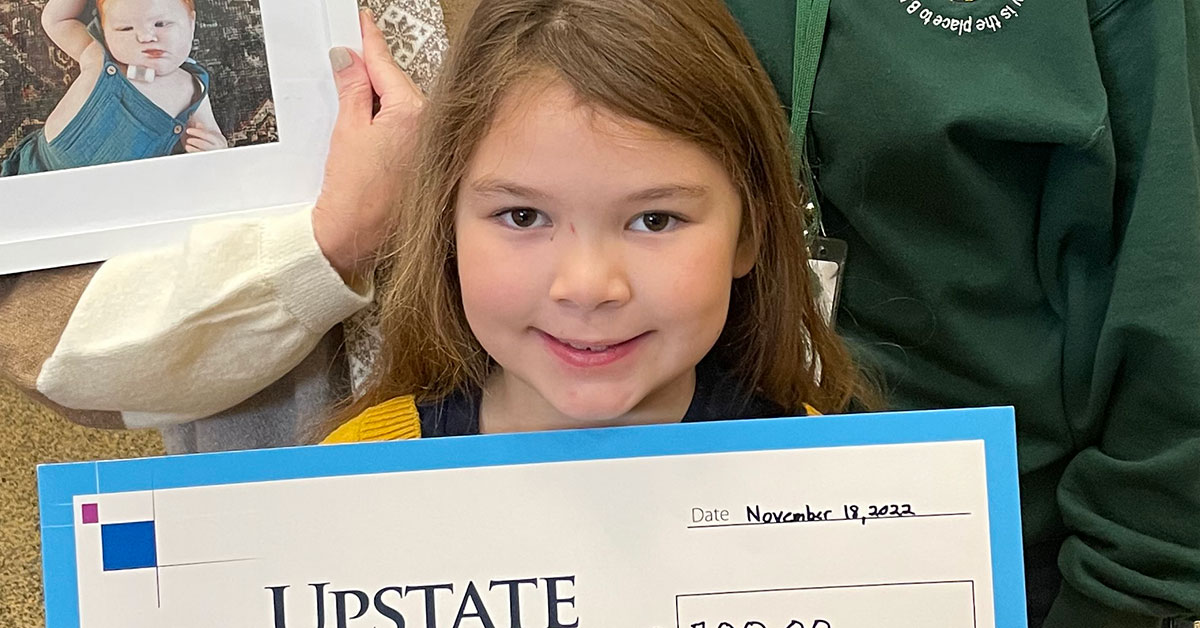 recently turned unimaginable grief into positive action.
Earlier this school year, the Fayetteville-Manlius School District student and her family experienced a devastating loss when June's three-year-old brother, Kian passed away after a 33-month battle with brain cancer. 
The devastating loss affected the many people who knew Kian and his family, and school counselors wanted to make sure June received the support she needed during such a tender and difficult time in her life. 
"June is wonderful and sweet, and has such a big personality," Fayetteville Elementary Family School Liaison Karen Russo said. "Looking out for her has been our focus."
Not long after Kian's passing, June told Russo that she wanted to find a way to give back to the hospital that cared for her brother. 
"She wanted to fundraise for the hospital by 'selling' snacks in the teacher's room," Russo said. "She came up with the idea on her own. She felt it was one way she could keep her brother's memory alive."
With Principal Eileen Lux's support and Russo by her side, June created a plan and made a list of what she wanted to sell: potato chips, Irish cookies (because her family is from Ireland), chocolate candies and beverages. 
"As a staff, we were already collecting money for June and her family – it was one way we felt we could help," Russo said. "When we talked with June's parents about the existing donations, they were in full support of using the funds to purchase snacks so we could help June bring her idea to life."
From there, Russo and June worked together to establish a faculty room snack bar, which featured not only a variety of sweet and savory pick-me-ups, but hand-illustrated signs, an explanation of the fundraiser's purpose and photographs of Kian. The display was completely curated by June.
At the end of each school day, June was given permission from her teacher, Trasie Procopio, to retrieve the daily donations from the faculty room. She would add up the earnings, tally the fundraising total, and stow the donations away in her teacher's desk drawer for safe keeping. 
"She beamed with pride every day," Russo said. "Staff went above and beyond, often donating far more than the 'cost' of their snack selection."
In one month's time, the snack bar raised $680. June decided on her own to add $20 of her "birthday money" to the collection, which brought the final fundraiser total to $700.
On the morning of Nov. 18, June, who was accompanied by her parents and grandmother, arrived at school earlier than usual so she could present the donations to Upstate University Hospital Professor of Pediatrics Irene Cherrick, MD. 
Cherrick directs Upstate's CHOICES Pediatric Palliative Care program, which is available to any child or family suffering from a life-threatening or life-altering illness. The program provides assistance with medical decision making, goal setting, communication, ongoing support and coordination of care, and offers expertise in pain and symptom management to help improve quality of life.
With her family, Principal Lux and dozens of Fayetteville Elementary staff members around her, June presented Cherrick with a $700 check for the hospital.
"She did such a good job celebrating and honoring her brother throughout this process," Russo said. "I do believe this project thoroughly helped her channel her grief into something good. She is one amazing kid."
June's work continues
With her snack bar fundraiser now complete, June is currently working with Fayetteville-Manlius High School students to raise money and awareness for Camp Good Days and Special Times as part of the school's annual Dance Marathon fundraiser.
Camp Good Days and Special Times is a not-for-profit organization that provides a summer camp experience to children whose lives have been affected by a cancer diagnosis and sickle cell anemia.
For more than 30 years, students in grades 9-12 have been participating in the campaign, which typically raises more than $100,000 for the camp. The fundraiser culminates with a six-hour event, Dance Marathon, which will be held this year on March 18.
Donation Information:
CHOICES Pediatric Palliative Care Fund at The Upstate Foundation
750 East Adams St. Syracuse 13210 or online (Fund 10275)
F-M Dance Marathon or text FMDANCE23 to 44-321