The Fayetteville-Manlius School District is looking to take its instructional technology to the next level by leveraging its partnership with Tri-State Consortium.
Tri-State Consortium includes the membership of forty-five high-performing school districts from Connecticut, New Jersey and New York that work collaboratively to deepen professional development and advance teaching and learning.
In May, F-M hosted a three-day consultancy visit from consortium members to review the district's use of technology to facilitate and enhance teaching and learning as it pertains to:
Alignment and integration with the district's curriculum and instruction

Benefits provided to F-M's broad range of learners

Opportunities for professional learning that are tailored to each area of instruction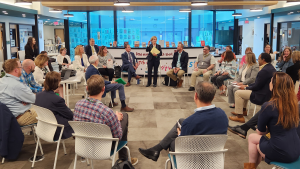 Consultancy visits include a review of the host district's program through teacher, administrator, parent, student, board member and support staff interviews, evidence and data analysis, student shadowing and classroom visits, which culminates in a final written report, by the consortium, with recommendations for growth and advancement.
"F-M selected instructional technology to be the focus of the consultancy visit because it impacts district teachers and students at all levels. We want to ensure we keep pace with the accelerating pace of technological advancements, as well as align with the new New York State Education Department's Computer Science and Digital Fluency Learning Standards," said Assistant Superintendent for Instruction Dr. Mary Coughlin.
The district has received a draft written report of the visit, which includes numerous commendations and recommendations to advance the work of the district. Once the final report becomes available, it will be shared with all F-M teachers and the District Curriculum Council. A presentation will also be made to the board of education in the fall of 2023.
F-M is the only Upstate New York school district included in the consortium and has been a member district since the fall of 2018.
During the 2022-23 school year, F-M teachers and administrators attended visitations at five consortium member's districts, focusing on the following topics: defining student success, Brewster Central School District; digital learning and science, technology, engineering and mathematics (STEM), Wilton Public Schools; science, technology, engineering, arts and mathematics (STEAM) – computer science, Chappaqua Central School District; systematic approach to well-being, New Canaan Public Schools; and student engagement, Southampton Union Free School District.
"It has been a phenomenal experience to be able to partner with Tri-State Consortium. The knowledge and insight we have gained is invaluable and being used to enhance students' educational experiences at F-M," said Coughlin.