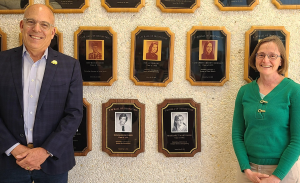 On May 25, the accomplishments of two Fayetteville-Manlius School District alumni were recognized during the district's Hall of Distinction ceremony.
Since its start in 2000, the Hall of Distinction has recognized 50 individuals. The program's goal is to recognize and celebrate the accomplishments of F-M graduates and to inspire current students.
The Hall of Distinction inducted the following individuals during its recent ceremony:
Douglas Bowser – Class of 1979
President – Nintendo of America Incorporated; Executive Officer – Nintendo Company 

Limited
Margaret Rose Martonosi, PhD – Class of 1982
Computer Science Professor – Princeton University; Assistant Director for Computer and 

Information Science, and Engineering – National Science Foundation
The Hall of Distinction inducts new members every two years and inductees are recognized with plaques that are displayed in the F-M High School House I foyer.
Graduates eligible for selection to the Hall of Distinction have exemplified the tenets of F-M's educational philosophy throughout their lives, will have been graduated from F-M for at least 15 years and will meet one or both of the following criteria:
Outstanding social contribution to the broader community by making a difference in the lives of others; and/or

Outstanding professional contribution to, or achievement in, their field of endeavor.
Inductees are nominated by members of the public and selected by a committee of school officials. The committee includes an F-M Board of Education member, the superintendent, an assistant superintendent, a building principal and teachers from the elementary, middle, and high school levels.