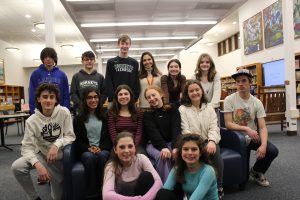 Thirteen Eagle Hill Middle School students significantly impacted their school community, as well as the surrounding Syracuse community in a positive way.
A 20-week elective course, Agents of Change, is designed for students to identify a community need or issue and work together to generate a solution. They learn about social and environmental issues, do research, set goals and create an actionable plan.
"They become changemakers in their own community while gaining resilience as they overcome roadblocks that manifest themselves during the process," said Bridget Wojnovich, who teaches the Agents of Change course at Eagle Hill.
During the course, students learn creative problem solving strategies, and planning and communication skills. They are taught how to write professional emails, schedule meetings, effectively utilize public speaking skills and disseminate information to their peers.
First-semester Agents of Change students completed projects, which included:
Starting a morning announcements club for students in grades 5 through 8

Raising awareness about the effects of divorce on children

Promoting the importance of therapy animals for students

Creating a "reflection room" where students in grades 7 and 8 can go to decompress

Adorning the hallways of Eagle Hill with inspirational images and messages

Organizing and executing a donation drive for Vera House, Inc.

Organizing and executing a diaper drive for CNY Diaper Bank
"I'm incredibly proud of the students in this course. They have grown in so many ways while creating change that reaches beyond the walls of Eagle Hill," said Wojnovich.
Agents of change is offered to eighth-grade students at both Eagle Hill and Wellwood middle schools. Upon successful course completion, students receive one-half credit towards high school graduation.