A Fayetteville-Manlius family is spreading hope and raising awareness for Duchenne muscular dystrophy. Charlie Prior is a second grader at Enders Road, and he was diagnosed with Duchenne muscular dystrophy at the age of 3. Duchenne is the most common muscular dystrophy in children, and mostly affects boys. It is a progressive disorder that causes muscles to become weaker over time until it affects the whole body.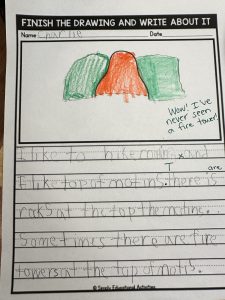 Despite his diagnosis, Charlie doesn't let anything slow down his love of the outdoors. Over the summer, the Priors took a trip to the Adirondacks, where Charlie and his family climbed to the top of Belfry Mountain and the fire tower that sits on top. When at the beginning of the school year, his teacher, Mrs. Addai, asked students to illustrate how they spent their summer, it was the first memory Charlie was eager to share with his classmates.
Over the weekend of Sept. 30, the Prior family participated in a nationwide event that each year aims to raise awareness for the rare disorder. Parent Project Muscular Dystrophy, an organization that offers information and resources about DMD, hosts "Coach to Cure MD" each fall, in a partnership with the American Football Coaches Association. It's the largest national charity devoted exclusively to Duchenne. College football coaches nationwide wear patches on their sleeves on the last Saturday of September in an effort to raise awareness and raise money to fund research for a cure.
This year, the Priors were invited to Utica University to share Charlie's story with the team. On Friday, Sept. 29th, Charlie joined head football coach Blaise Faggiano at the team's practice, and on Saturday, Sept. 30th, the Priors attended Utica's game against Hartwick College, where Charlie participated in the coin toss as an honorary captain. 
This wasn't the first time Charlie was on the field on a college game day. In 2019, the Priors were invited to Syracuse University, where Charlie was invited onto the field and was gifted a signed football.
Duchenne progresses differently in every person. Charlie's mom, Cheryl, said he's been receiving breakthrough treatment by the biopharmaceutical company Sarepta. The first-of-its-kind gene therapy for Duchenne gets at the root of the problem: the body's inability to make dystrophin, the glue that holds muscle fibers together. The gene therapy was approved by the FDA this year; a triumph for families like the Priors.
If you'd like to read more about "Coach to Cure MD," you can head to the Parent Project Muscular Dystrophy website.