On June 17, members of Fayetteville-Manlius High School's Class of 2022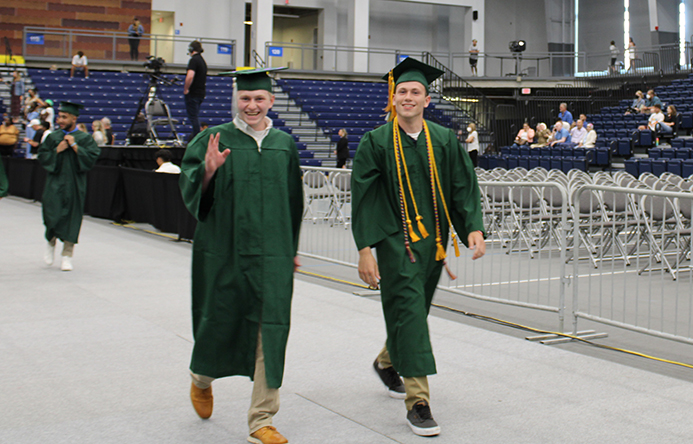 gathered together for a final celebration.
Fayetteville-Manlius School District held its 69th annual graduation ceremony at the SRC Arena at Onondaga County Community College in Syracuse. It was a culminating celebration for a class that, for most of high school, had to adapt and overcome various challenges caused by a global pandemic.
Traditionally, the senior with the highest grade point average is asked to speak during the ceremony. This year, that student was Andrew Ahn. Senior Class President Hannah Faigle also addressed the Class of 2022.
"From the ups and downs of these past four years, we embraced our struggles and allowed ourselves to be vulnerable with one another," Hannah said. "We are leaving our mark on F-M High School – one that I hope younger students will see so they know how special our class is."
Hannah reminded her peers that everyone will navigate a different and unique journey – and that is something that should be celebrated.
"Whatever you choose to do, wherever you go, you will make a difference in the world," Hannah said.
Other speakers included Superintendent Craig J. Tice and F-M High School Spanish teacher Christine Monaco ('03), who the students selected to speak.
"Learn to embrace change," Monaco said during her address. "Hear me say this: your plans will change. No matter what the change, or how it comes about, you're going to need to know how to face it, roll with it, grow from it and embrace it."
View more graduation photos on the district's Facebook page.