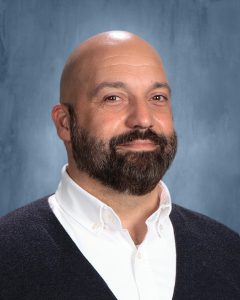 Fayetteville-Manlius Mental Health Educator William DeSantis has joined the inaugural School Crisis Recovery Renewal Project Fellowship. DeSantis is one of 25 crisis leaders from across the country who will collaborate on a capstone project focusing on helping communities heal from trauma. 
"A lot of very heartbreaking experiences have impacted our school community," explained DeSanits. "We have comprehensive standardized procedures for responding to crises in our district, but we need to think about the next step of healing from the aftermath of trauma and grief."
As a member of this fellowship, DeSantis and the other crisis leaders will learn how to take communities into that next level of renewal and healing. DeSantis said it will take an in-depth approach of collaboration, and applying meaning-making to the district's experiences in order to help people come to terms with what has happened.
"This won't just be beneficial for our students, but also our staff and our families. We will emphasize the power of school as being a focal point for creating community connections for everyone," added DeSantis. "We have to capitalize on those community connections to become a healing organization."
DeSantis said having the support of a national network of crisis leaders with a shared common experience will be a major help in developing these practices for schools.