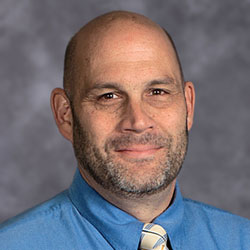 Fayetteville-Manlius High School is welcoming retired administrator and educator John Durkee as its interim principal, effective September 18, 2023. The Board of Education approved Durkee's appointment during its August 21st meeting.
Durkee has worked as a building administrator at the high school level for more than two decades. Most recently, he served as building principal of Marcellus Senior High School, from which he retired in July, 2023. Prior to his leadership roles, Durkee taught social studies at both the junior and senior high school levels in the Homer Central School District, where he began his career as an educator in 1989.
"Mr. Durkee's vast experience as a high school principal coupled with his familiarity in having to navigate a massive construction project at Marcellus Senior High School will serve us well as he begins his duties in the midst of a capital improvement project here at F-M High School," stated Dr. Craig Tice, Superintendent of Schools. "John's warm approach, outgoing personality, and authentic interpersonal skills will resonate with the faculty and staff as well as the students and their families."
Dr. Kilmer and Mr. Durkee will overlap for about one month: a model the district has used when transitioning between members of the senior leadership team in the past.
The district has also appointed Lis Benavides as Assistant Principal, and Elizabeth Wheeler as Dean of Students at the high school. 
Benavides has experience as an associate principal, and has worked as an ENL teacher across two school districts since 2016. Wheeler has been working at F-M since 2001. She started as a high school English teacher, and in 2018, became an Instructional Specialist for F-M High School.
The F-M Board of Education also recently appointed Paula Kopp and Mary Ann Murphy to serve as interim assistant principals for the start of the 2023-24 school year.