Some of Fayetteville-Manlius School District's walkways recently became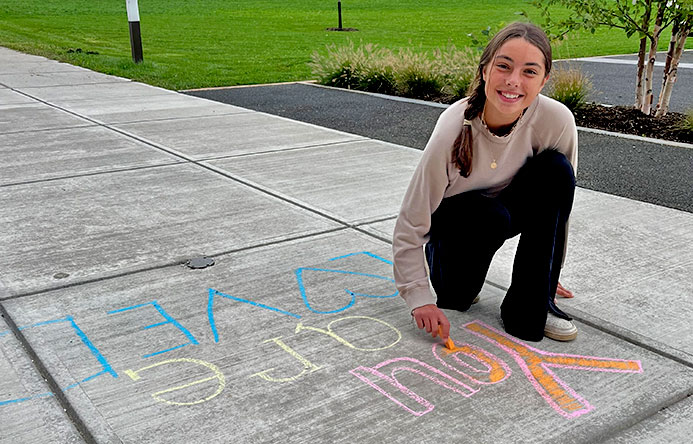 canvases where students could chalk uplifting messages and colorful illustrations for all to see.
This fall, students participated in "Chalk the Walk," a community-wide initiative that promotes normalizing conversations surrounding mental health and wellness, and raises awareness for suicide prevention. As part of the activity, participating students can safely beautify sidewalks, pavement and other spaces with empowering and heartfelt messages of hope and encouragement. 
At F-M, the activity was formatted to be developmentally-appropriate for each grade level and led by school building leaders and the district's mental health educator, William DeSantis. At Eagle Hill Middle School, for example, the activity was part of a conversation focusing on the district's code of conduct and its commitment to providing a safe learning environment where all members feel included, respected, valued and connected, Assistant Principal Elizabeth Smith said.
This initiative is one way we can support students who might be struggling emotionally, Smith said.
During the activity, all participating students were given time during the school day to head outdoors and chalk messages onto the frequently-traveled walkways in front of their school buildings. Some students chose to illustrate images of love, kindness and strength, while others covered the concrete paths with inspirational quotes and motivational messages. The messages were meant to be seen by all who enter and exit the buildings.
Across the country, "Chalk the Walk" activities present in various forms, with most taking place on or around World Suicide Prevention Day, which is annually observed on Sept. 10.
The following video includes images taken during the various "Chalk the Walk" activities held throughout the F-M School District.