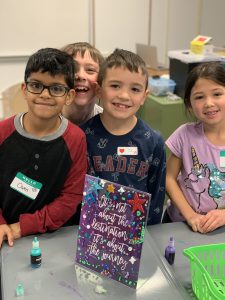 Enders Road Elementary School students are hoping to bring a little cheer to patients, and their families, admitted to Upstate Golisano Children's Hospital in Syracuse. 
The school's five second-grade classes—about 125 students total— worked together in small groups to decorate 25 framed inspirational messages that they then donated to the hospital. The 8.5" by 11" acrylic frames, which the students decorated with puffy paint and stickers, will be displayed where pediatric patients will see them and hopefully be cheered by the positive and inspirational messages within the frames, Enders Road second-grade teacher Julia Aloi said. 
This school year, the Enders Road character education program is focusing on kindness. Being honest, respectful and mindful—all past character education themes— each stem from being kind, Aloi said.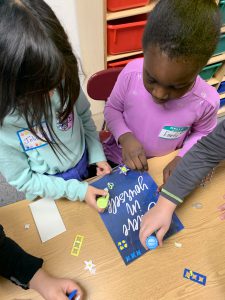 "Our job as educators is to teach our students how to live in the world and how to treat others," Aloi said. "That's a huge part of our jobs."
The prints, donated by Annie Taylor Design in DeWitt, include such quotes as "Believe in yourself," "You got this" and "You are so loved." Taylor visited with the students on Dec. 18, talking with them about kindness as they put their artistic touches on the frames. 
"With three young sons myself, I am driven to do everything I possibly can to raise them to be happy and caring kids," Taylor said. "I want all children, not just my own, to feel a strong sense of belonging and higher self-esteem at school."
For the past several years, the second-grade classes at Enders Road have been making small crafts on a near monthly basis to be donated to the children's hospital. Aloi's neighbor, OCM BOCES Hospital School Teacher Mary Ellen Michalenko, has delivered the crafts to the hospital. 
Last year, one of Aloi's classroom projects included donating several framed prints similar to the ones the students decorated Dec. 18. Michalenko let her students take home ones whose messages resonated with them. For those children who couldn't physically make it to her classroom within the hospital, she brought frames to their rooms.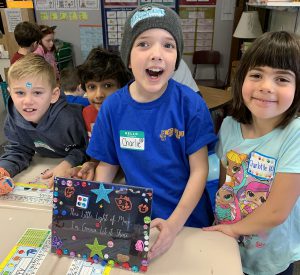 "When people are here in the hospital, any little thing to cheer them up helps," Michalenko said.
This year, Aloi decided to make the frame project bigger, which allowed her students to work with grade-level peers they may not have met before. Each group decorating a frame was comprised of one student from each of the five classes. 
This project is one of many taking place across the district as staff and schools embrace the district's mission statement, which includes creating supportive community partnerships and developing social-emotional learning opportunities for students. 
"We want them to understand the importance of giving back to the community," Aloi said.