A Fayetteville-Manlius elementary student's desire to help others has inspired a chain reaction of giving and kindness.
This past fall, Fayetteville Elementary kindergarten student Logan Carroll recruited the help of his peers to raise money for victims of Hurricane Dorian – a hard-hitting tropical storm that swept through parts of the Bahamas in Sept. 2019.
"One morning in October, Logan asked me if he could share something with his classmates," said Logan's teacher Kerry Villalba. "He told us about Hurricane Dorian and how it recently impacted so many people. He was concerned because so many homes and schools were damaged or destroyed."
Villalba said Logan's concern about the devastating weather event prompted a series of class discussions. She talked with students about what hurricanes are, how they form and the impacts they can have on people and places.
"Our discussions prompted students to brainstorm ways they could help Hurricane Dorian victims," Villalba said. "Students quickly became invested in this impromptu project."
After doing some research, the kindergarteners agreed to raise money for the American Red Cross' Disaster Relief and Recovery program, which helps provide meals, shelter, supplies and medical support to people affected by life-altering tragedies.
Hoping to rally support for their fundraising endeavor, Villalba's students wrote a letter to Bee Council, which is Fayetteville Elementary's student leadership organization. Bee Council responded to the request with a $25 donation to the Red Cross fund, and school leaders presented the check to Logan and his classmates.
"It was such an honor," Villalba said. "Students were so appreciative of the council's generosity."
Following the check presentation, Logan suggested to his classmates that they work together to raise more money. With the help of their teacher, students wrote another letter – this time to their own families – to tell them about the classroom's newly-constructed spare change donation box and their fundraising effort.
"Students made the box so they could bring in their own spare change," Villalba said. "Their determination to help others left me speechless."
Since the fundraiser's launch in October, students have been busy sorting, rolling and counting the donated coins and bills, said Villalba. They plan to end their fundraiser on Friday, Jan. 10. So far, they've collected more than $320.
"The generosity and selflessness of these students has been incredible," Villalba said. "This project has been a great way for students to recognize how they can each truly make a difference in this world."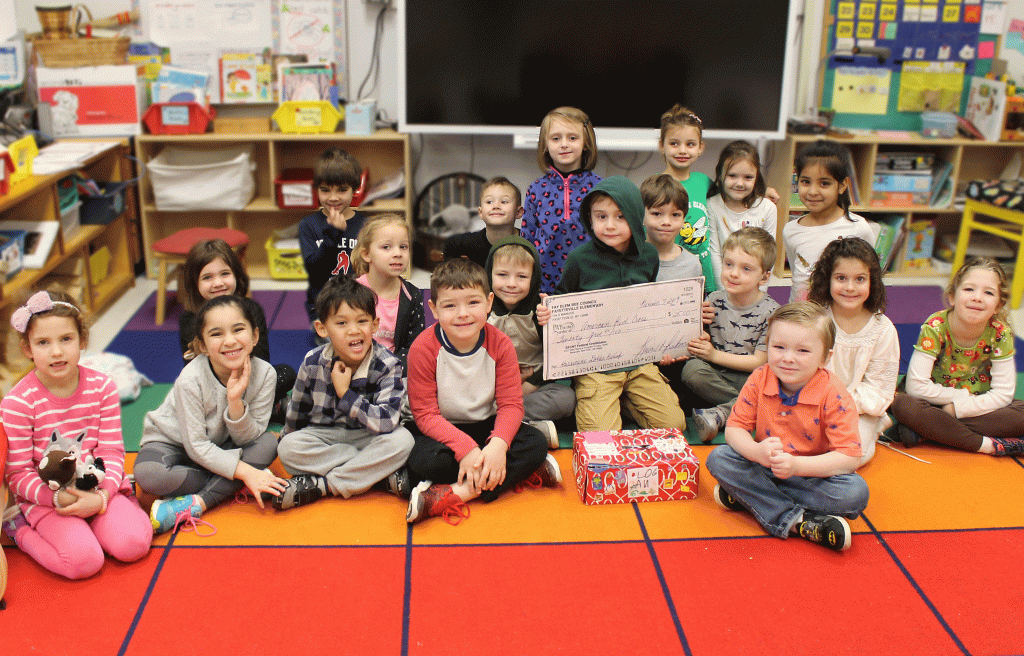 Students in Kerry Villalba's Fayetteville Elementary School kindergarten class recently raised more than $320 for victims of Hurricane Dorian.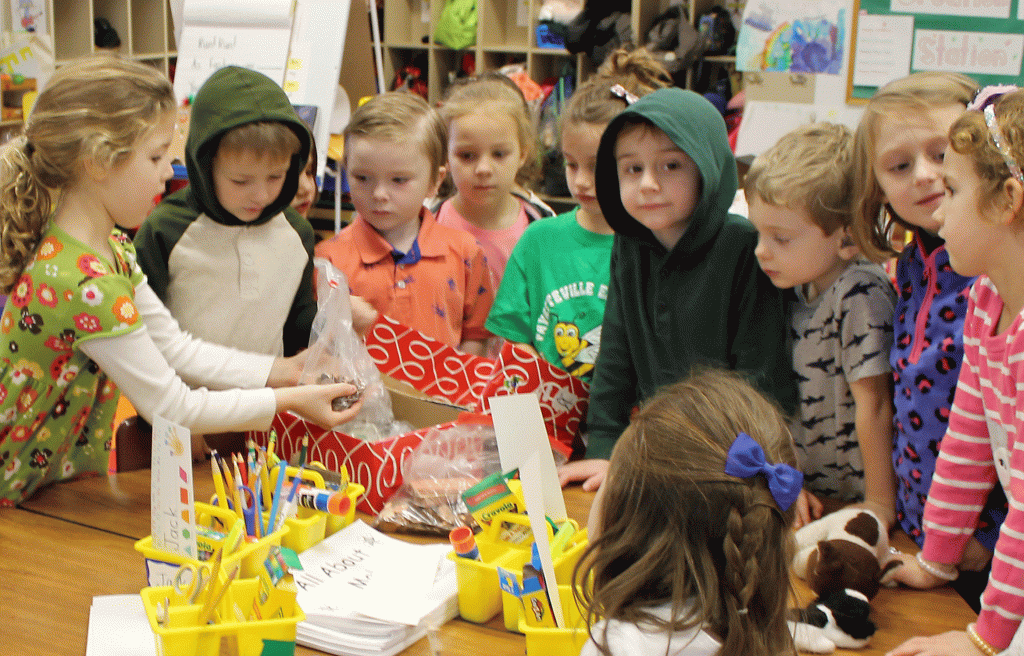 Fayetteville Elementary School student Logan Carroll (looking at camera) encouraged students to support Hurricane Dorian recovery efforts by donating their spare change to a classroom collection box. At the end of the fundraiser, the change will be donated to the American Red Cross.