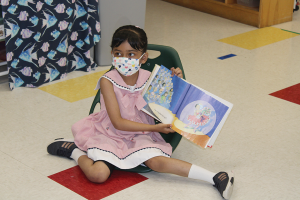 As they thought about how to spell the word their teacher had just said, some students scrunched up their faces, deep in thought, while others immediately began writing on their white dry erase boards. 
The activity was just one of many taking place during the Fayetteville-Manlius School District 2022 Summer Literacy Camp. Students entering grades 1-3 for the 2022-23 school year were invited to participate based on literacy data and teacher recommendations as to which students would benefit the most from the program. Activities included reading a mix of fiction and nonfiction books and participating in hands-on activities to practice sight word recognition. 
"We really want to make sure their early literacy skills are up to speed so they can hit the ground running in September," said Mary Coughlin, the district's assistant superintendent for instruction. 
Classes were based at Fayetteville and Mott Road elementary schools, and Eagle Hill Middle School served as a host this year instead of Enders Road Elementary School since maintenance work was taking place in the Enders classrooms. Each of the three schools hosted the literacy camp for two hours per day Tuesdays through Thursdays for five weeks total.
The program has grown from being hosted at only one of the district's elementary schools with an enrollment of about 50 students to three school sites and 119 students. This year, it was particularly important to host the program to support those students who were most directly impacted by the lack of in-person instruction during the COVID-19 spring 2020 school closings and partial return to in-person learning during the 2020-21 school year, Coughlin said.