For nearly a year, Wellwood Middle School student Eisen Brower spent most of his free time immersed in video gaming.
The seventh-grader himself wasn't clutching a controller for countless hours while navigating digital terrain, battling avatars and foregoing homework, but he was writing about a teen who was.
In December, the Fayetteville-Manlius School District student spent time talking to groups of Wellwood ELA students about his recently-written book, "Rings," which follows the journey of a socially-awkward high school student whose growing video gaming obsession distorts his reality.
Joining Eisen for the peer discussions was former SUNY College of Environmental Science and Forestry professor Paul Otteson who, along with Eisen's brother, Gulliver, and a close friend, helped 12-year-old Eisen develop and write the teen fiction.
"Our biggest focus was showing how the book's main character, Alex relates his real life to game life," Eisen said. "It was also important to demonstrate the consequences that Alex and his friends face when they try stepping away from the game."
Alex, who becomes a warrior named Dune while immersed in gameplay, narrates the story. "Rings" shifts between Alex's reality, where he shares of his desires to stop gaming and instead focus more on having real-life relationships, to Alex's fantasy world where he dons headphones, grips a controller and becomes Dune.
The title of the book refers to the game's levels, which are circular so the flow of play can go clockwise or counter-clockwise. A different cityscape represents each ring and the game's difficulty level increases as play progresses.
The book's intended audience is middle and high school students, according to Eisen.
"We chose to write about this topic because it's relevant and our audience can relate to it," he said.
During the discussions at Wellwood, Eisen told students about his book-writing process, which he started last winter. Eisen said he and the book's other youth authors would individually write their pieces during evening and non-school hours and their mentor, Otteson would edit their work. The authors would often meet in person to brainstorm and discuss new ideas.
"We didn't always agree on things," Eisen said. "But the book turned out how I had envisioned it would – maybe even better."
Eisen told students that "Rings" will be submitted to publishers soon and he's planning to write another book.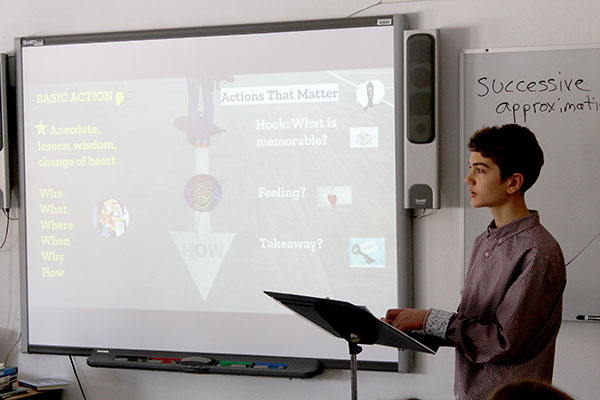 Wellwood Middle School student Eisen Brower shares his writing process with his peers.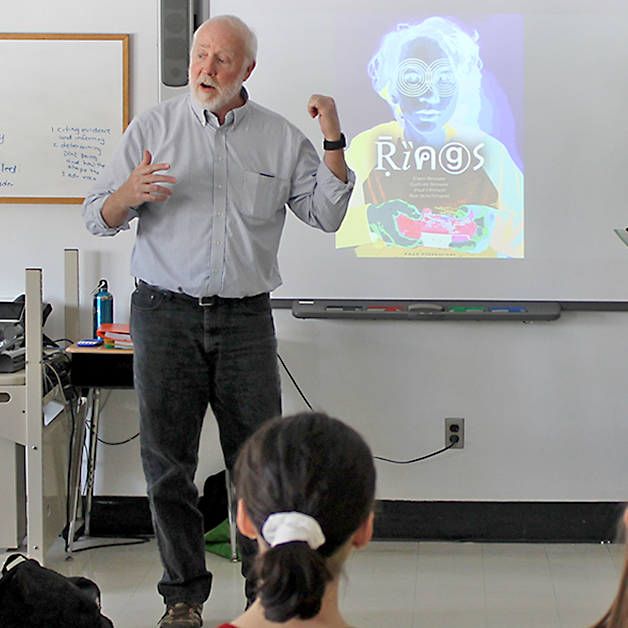 Former SUNY College of Environmental Science and Forestry professor Paul Otteson discusses the "Rings" cover illustration with Wellwood Middle School students.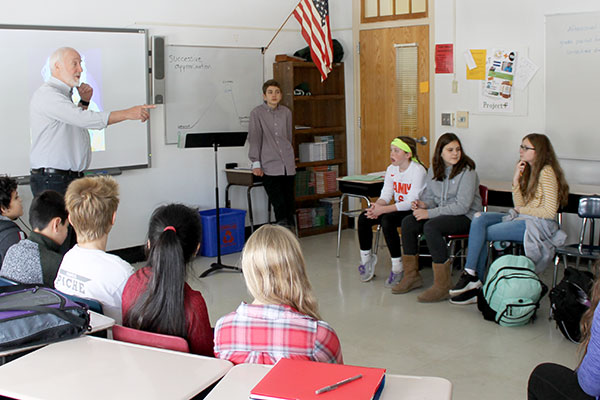 Wellwood Middle School students in Susanne Miller's class listen as former professor Paul Otteson and seventh-grader Eisen Brower talk about the book they wrote together.