In an effort to promote the importance of literacy, a group of Fayetteville-Manlius School District students participated in Jumpstart's Read for the Record Day.
On Oct. 27, 5th grade Literacy Lab students at Wellwood Middle School read Nigel and the Moon by Antwan Eady and illustrated by Gracey Zhang. It's a book that honors diversity, celebrates pride in where we come from and encourages children to dream big.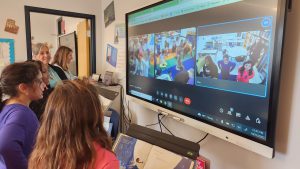 During 20-minute sessions, groups of two to three 5th grade students worked together reading Nigel and the Moon to kindergarten, 1st grade and 2nd grade classes across the F-M School District, virtually.
Read for the Record is the world's largest shared reading experience and brings adults and children together in an attempt to break the world record for the greatest number of readers and listeners of the same book on the same day. Each time the book is read, Jumpstart donates a book to classrooms, libraries and community centers in underserved communities.
More than 24 million people have taken part in this worldwide annual event. F-M students have been participating in Read for the Record for 10 years and this year, had 344 participants. The world record results are expected to be released in 2023.