Members of Fayetteville-Manlius High School's varsity wrestling team were recently recognized for the high levels of integrity and sportsmanship they exhibited during this school year's season.
On Feb. 9, Syracuse Wrestling Officials Association presented the F-M team and its coaches with the 2018-19 John Arcaro Memorial Sportsmanship Award. The association presents the award each year to a Central New York wrestling team that demonstrates the highest standards of good sportsmanship through the actions of its administrators, coaches, wrestlers and fans.
F-M wrestlers and team coaches Eric Wood and Brent Ostrander received the award during the Section III wrestling finals, which took place at Onondaga Community College's SRC Arena.
The 2018-19 F-M wrestling team is comprised of the following student-athletes:
Malik Barr, freshman
Justin Bedell, senior
Benjamin Christopher, senior
William Coley, freshman
Alexander Dauksza, junior
Sawyer Dereszynski, sophomore
Tanner DiGristina, freshman
Antonio Fernandez-Cosgrove, freshman
Braden Florczyk, senior
Vedat Gokmen, senior
Allen Hamilton, sophomore
Zackary Henderson, senior
Charles Josephson, senior
Preston Koester, senior
Leo Pieples, sophomore
Brennon Rettig, freshman
Luke Richter, freshman
Elvis Shiribwa, junior
Kyle Sykes, freshman
Nicholas Testani, junior
Benjamin Tichi, freshman
Aurelio Varela, junior
Xavier Varela, sophomore
Cameron Worden, freshman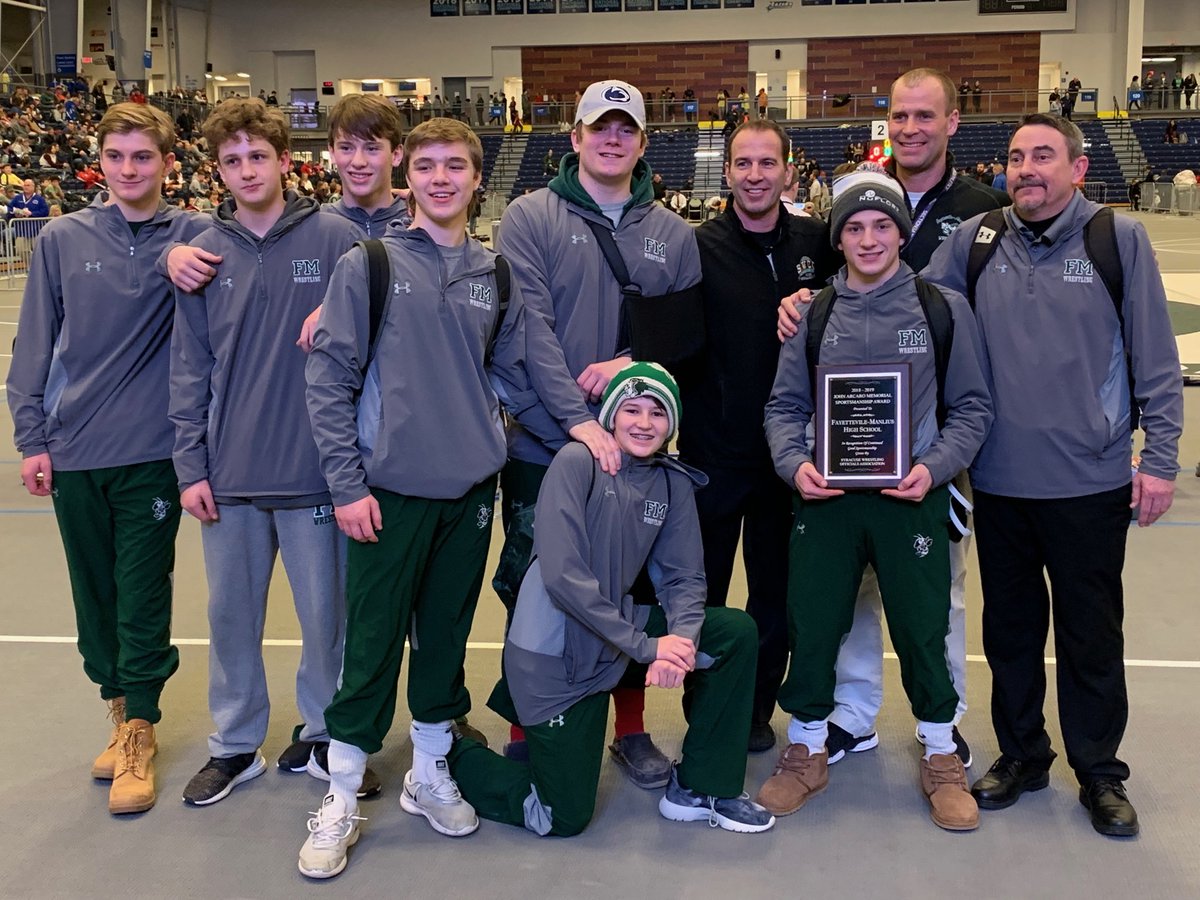 Several Fayetteville-Manlius High School varsity wrestling team members and coaches gather for a photo after receiving the 2018-19 John Arcaro Memorial Sportsmanship Award.
Photo courtesy of Twitter.