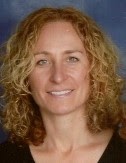 Fayetteville-Manlius School District's director of instructional technology was recently recognized as one of six school district administrators from across the country who are leading innovation in their school districts. 
Laurel Chiesa, who has worked for the F-M district for 13 years, received a Tech & Learning Innovative Leader Award during the Tech & Learning Leadership Summit in Orlando, Florida. 
The award recognizes exceptional administrators in select regions around the country who are leading innovation in their school districts, according to the Tech & Learning website. 
"We're seeking district leaders who not only drove innovation during the pandemic, but plan to take these lessons learned to reimagine and reinvent education moving forward," the Tech & Learning website states. 
Chiesa oversees the implementation and integration of technology in addition to the purchasing of hardware and software. She regularly collaborates with teachers and teacher leaders to integrate coding and media literacy and provides software professional development for teachers and parents and overall technology support for district staff. She also facilitates the district's technology committee, which is made up of teachers, parents, students and staff to address policy and instructional goals.
Chiesa has also been leading F-M's student data privacy compliance efforts and deployed a data analytics platform to give real-time visibility into actual app usage, according to Tech & Learning. Adding this system made it easy for all stakeholders to know which apps' security policies the district has vetted and approved. 
Chiesa is a co-founder and facilitator of the Central New York Technology Collaborative, providing a learning community to 48 technology directors. In the last three years, a main focus of hers has been student privacy and cybersecurity as well as preparing students for technology-based occupations, collaboration, and civic responsibility. 
"I was so surprised to receive this award among the amazing technology leaders I met in Orlando," Chiesa said. "Working to keep students safe online is always at the forefront for me and what keeps me up at night, so this award is motivation to continue to fight with companies to protect students."