To help students succeed in the world language learning process, six Fayetteville-Manlius School District educators recently attended a comprehensive professional development event that draws more than 8,000 educators from all languages, levels and assignments.
The American Council on the Teaching of Foreign Languages (ACTFL) held its 51st Annual Convention and World Languages Expo Nov. 16-18 at the Ernest N. Morial Convention Center in New Orleans, LA. The goal of the two-day event is to provide language educators with vision, leadership, and support for quality teaching and language learning, according to the ACTFL.
F-M Languages Other Than English (LOTE) educators Chelsea Amidon (Spanish), Richard Ernst (French and German), Sarah-Woodward Jones (French and district LOTE coordinator), Denise Mahns (French), Ana Spencer (Spanish), and Kate Stewart (German) attended the event, which this year included more than 800 professional development opportunities that focused on innovative programs, research-informed practices and cutting-edge technologies.
The event also featured pre-convention workshops, roundtable discussions, peer review sessions and a keynote address by world explorer, award-winning journalist and National Geographic Fellow Dan Buettner.
"It was an amazing experience," Dr. Mahns said. "We collectively brought back a wealth of information on topics like inclusive language and diversity, using authentic resources, incorporating cinema and video in the language classroom, centering minority voices, and research-based techniques for fostering language acquisition in learners of all ages and proficiency levels."
During an upcoming F-M staff development day, LOTE educators who attended the convention will share with colleagues the knowledge and information they obtained during the event.
The ACTFL convention experience supports several of the district's priority areas for the 2018-19 school year, including professional development, communication and collaboration, and global networking.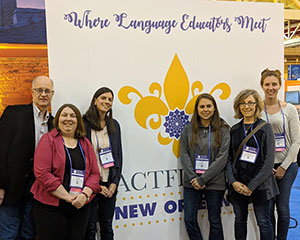 Six of Fayetteville-Manlius School District's Languages Other Than English educators attended the American Council on the Teaching of Foreign Languages' 51st Annual Convention and World Languages Expo Nov. 16-18 in New Orleans, LA.