Ten Fayetteville-Manlius High School students were recently inducted into the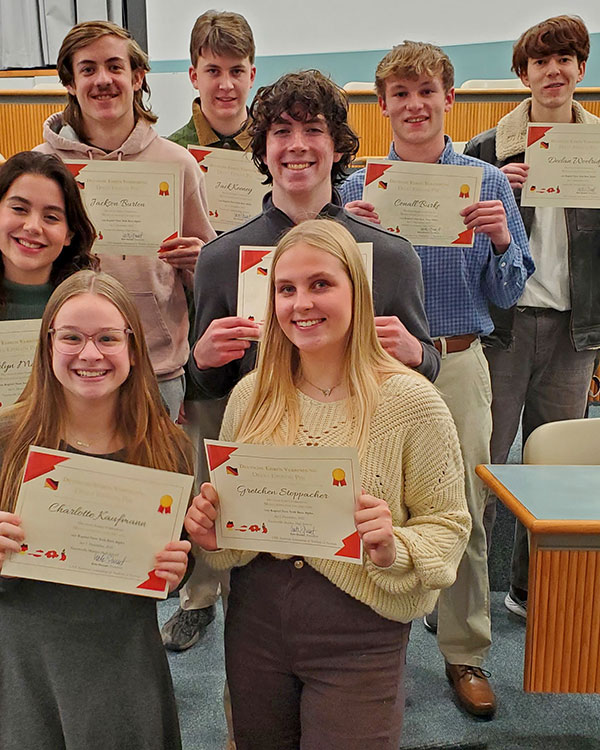 Fayetteville-Manlius Delta Epsilon Phi German National Honor Society, New York Beta Alpha Chapter.
Delta Epsilon Phi celebrates student academic achievement in German and promotes the study of the language, literature and culture of German speaking countries. 
The following students were inducted into the F-M chapter on Dec. 5: Conall Burke (junior), Jackson Burton (junior), Vincent Hunt (junior), Charlotte Kaufmann (junior), Jack Keeney (junior), Charlotte Knutsen (junior), Lucy Lockwood (junior), Madelyn Malgieri (senior), Gretchen Stoppacher (junior) and Declan Woolridge (junior).
The chapter's existing members include the following grade 12 students: Clara Leak, Aiden Lee, Erik Koshnicharski, Kaylene Noble and Ruthie Taber.
Membership in the National German Honor Society has the following requirements:
Pay the AATG fee ($7)

Studied three or more years of German

Maintain a minimum average of 90% in German in high school 

Take the German 5-AP during senior year

Participate in five of the following extra-curricular German activities:

German Lip Dub during junior and/or senior years (prior years do not count)

Take the National German Exam in January (two credits for scoring above 90%)14

Membership in German Club with consistent attendance (at least eight meetings)

Participate in the fall NGHS induction ceremony as a senior

One-on-one practice Checkpoint B orals (2 sessions) with German 3 students before their final

Help with the after school elementary German class (Feb-March 6 weeks)

Attendance at the German American Society of CNY's Student Night (April)

Help at the CNY German American Society Oktoberfest in 2022 or 2023

Represent German Club at the 2022 Activities Fair

Organized tutoring of students in German after school