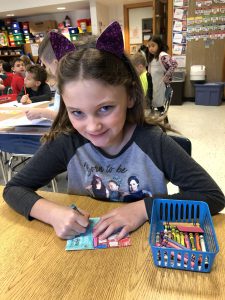 Food. School. Family. Books. Clean water.
These are just a few of the things that Mott Road Elementary School students expressed gratitude for during a recent school-wide project. 
As part of the Fayetteville-Manlius school's character education program, students each month participate in activities centered around such words as creativity, self-control and forgiveness. November's theme is gratitude, and students and staff are focusing on words such as thankfulness and humility, said school counselor Julie Wolf. 
"We're trying to build a community here where our students put other people first," Wolf said. 
At F-M's middle and high schools, students and staff are actively involved with the Positivity Project, a national nonprofit that focuses on building relationships and developing a culture of "other people matter." Mott Road's monthly character education themes stem from character traits highlighted by the Positivity Project. 
Principal Jonna Johnson said school staff are nurturing the "other people matter mindset" in the district's youngest students. Developmentally, elementary-age children are egocentric, primarily focused on their own wants and needs. Through the school's character education program, Mott Road staff members are helping the students to reflect on how their actions and words affect others.
"The goal really is to get kids to think outside of themselves," Johnson said. "When you get kids to think of others, they will take pause."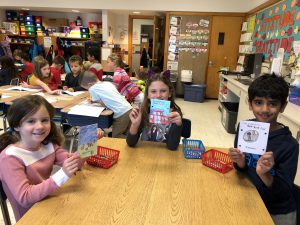 For November's project, each Mott Road student was given a small square of cardstock paper pre-printed with the phrase "I am grateful for…" Students completed the sentence and then used markers, crayons or colored pencils to illustrate their sentence on the square. 
Teachers then glued the individual squares to a larger sheet of paper, or used yarn to "stitch" the students' squares together, so each class created a 5-foot by 5-foot paper quilt that was displayed outside the classroom, spreading gratitude throughout the Mott Road hallways.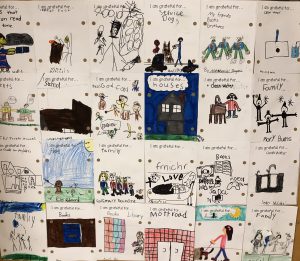 On Nov. 26, the district's last day of classes before the Thanksgiving recess, students walked the halls and viewed the approximate 20 quilts. Wolf plans to use yarn and connect each classroom quilt into one big Mott Road Thankfulness Quilt, which will be displayed in the school cafeteria. 
Activities such as the quilt project support the district's 2019-22 Strategic Plan, which includes a focus on creating a positive school environment and developing social-emotional learning opportunities for all students. 
"We want our students to consider others in their thoughts and actions," Wolf said. "We're really trying to make them think."