Ten Fayetteville-Manlius High School students were recently inducted into the Fayetteville-Manlius Delta Epsilon Phi German National Honor Society, New York Beta Alpha Chapter.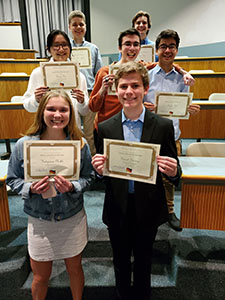 Delta Epsilon Phi celebrates student academic achievement in German and promotes the study of the language, literature and culture of German speaking countries. One student from the honor society chapter is annually eligible to apply for the Käthe Wilson Memorial German Summer Study Scholarship, which awards three weeks with a host family in Germany.
Inducted into the F-M chapter on Nov. 25 were juniors Luke Hasenwinkel, Daniel Haungs, Julia Kohlbrenner, Albert Levy, Charles Loh, Katyanna Noble, Sky Rolnick, Lucas Taber, Yihan Phoebe Wang and sophomore Qiong Maggie Wu, who taught herself German and studies at the junior level.
Membership in the National German Honor Society has the following requirements:
Must be a junior or senior;
Studied three or more years of German;
A minimum average of 90 percent in German;
An overall minimum grade point average of 75 percent; and
Participation during junior and senior years in a minimum of five of the following 11 extra-curricular German-related activities:

Represent German Club (current members only) at Activities Fair
Participate in Wellwood's International Dessert Night
Volunteer at Syracuse Oktoberfest
Participate in the fall induction ceremony as a senior
German Lip Dub during junior or senior year
Take the National German Exam after school in January (students who score above 90 percent will receive two credits)
Assist with the after-school elementary German class
Attend the German American Society of CNY's Student Night
Structured, consistent tutoring of middle or high school German students after school
One-on-one practice Checkpoint B orals (2 sessions) with German 3 students
Membership in German Club with consistent attendance (10 meetings or more)